Hamish Fletcher finds 10 romantic activities on the Gold Coast's waterways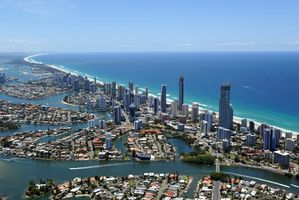 1: Get married
If romance strikes over the prawns and scallops of Main Beach, there's a little place the locals know where you can have the deal signed, sealed and delivered. Celebrations Afloat is Australia's only floating wedding chapel, with room for 74 of your nearest and dearest and is BYO. It's like Vegas, but on the water.
2: Seafood markets of Main Beach
Tucked in beside the grandiose Palazzo Versace, the hard-working fishing trawlers stick out like a sore thumb. But what a delicious thumb. Every day locals flock to the Gold Coast Fisherman's Co-operative to scoop up the freshest seafood straight off the prawn trawlers, tuna long-liners and crab boats. Open from 7am until it's all gone.
3: Jet Ski Safari
Jet Ski Safaris take you through mangroves and flood plains on the way to the Gold Coast's northernmost point. Ride solo or as a couple and stop for a drink at an island pub as you explore the region's waterways up close.
4: Swimming with sharks
If a dash of danger is likely to spice up your life then you and your better half should get up close with the local wildlife. The SeaWorld theme park at Main Beach offers a shark feeding encounter where you can be submerged in an acrylic cage with these ocean predators.
5: Sanctuary Cove lagoon
Nestled inside the grounds of the Intercontinental Hotel at Sanctuary Cove, this resort's tidal beach lagoon is the perfect place to cool off. Dry off while relaxing in the sun on the lagoon's sandy shore before spending a night at one of the Gold Coast's most luxurious accommodation spots.
6: Visit the homes of the rich and famous
Whether by paddle board, kayak or skippering your own electric boat, the waterways of the Gold Coast are littered with some of the most extravagant homes of Queensland's who's-who - from opulent mansions to an exact replica of the Addams Family manor.
7: Restaurants at Main Beach
If you build up an appetite while out on the water, Main Beach is a perfect place to drop anchor. From high-brow wining and dining at Glass, a seafood platter and a VB at Fisho's or a prawn skewer from Peter's Fish Market, you're bound to find something to sate your hunger.
8: Island getaway
If the beaches of the mainland feel too busy, the team at Reef Ryder have the answer. Aboard their comfortable launch, sun-seekers can enjoy a day island-hopping, snorkelling, a true blue Aussie prawn lunch on the island and the chance to see dolphins and sea turtles along the way.
9: Jet Boating
In the mood for something a bit racier? Jet Boat Extreme's "luxury 5-star" fleet pack 650hp twin jet-power turbo engines and can whizz at over 80km/h. Spinning and sliding across Broadwater, your joyride is sure to annoy every other boatie. Ignore them, they're just jealous.
10: Cocktails at Burleigh Heads
Looking out over one of the best surf beaches on the Coast, Pointbreak Bar + Grill has spectacular views and cocktails to match. Arrive early on to get a spot out on the deck and watch surfers catch waves. They carry a good selection of craft beers if mojitos aren't your thing.