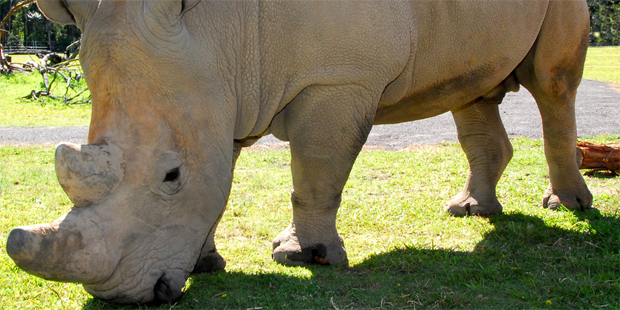 Foxy the cheetah is out for his daily walk with his keepers. Savannah, the one-year-old white rhinoceros, is playing in a mud bath with her mum. Several giraffes are munching on leaves high up a pole and Zebra are cheekily stealing some hay.
A shuttle packed with onlookers slows to take in the scene, their guide teaching them some words in Swahili.
It's a typical day in the new African section of Australia Zoo on south-east Queensland's Sunshine Coast. The 10 hectare African enclosure, which was years in the planning, is only six months old but by year's end around one million zoo visitors will have seen it.
It was the dream of zoo founder, the late Steve Irwin, the Crocodile Hunter, to build an African Safari Park, where animals could roam free in open plains and state-of-the-art, walk-through enclosures.
He visualised a place where visitors could watch these animals interact as they would in the wild; and where people could have their own unique experiences with them.
To get to the African exhibit we've passed tigers in the Tiger Temple and elephants in the South East Asia section to link with a 700-metre track around the African enclosure. Newest exhibit member, Sally the giraffe, came from Monarto Zoo in South Australia and made her public debut a week or so before Christmas.
Just like Steve, Wayne Poole, our guide and the zoo's international business development manager, has a passion for the zoo and for the Irwins' dream for its development.
"Steve's vision was for close interaction between animals and visitors, to educate and to pass on his love of animals and the environment. It took us a long time to plan the African exhibit. Now we have plans for more animals," Poole says.
Later he takes us behind the scenes of the Wildlife Warriors show and the pens where the Irwins' famous crocodiles are kept.
Animals are well-cared for in a zoo which takes enormous pride in not only making it the premier local family tourist attraction but a major force worldwide in wildlife care.
The zoo is just one highlight in a roundup of great family experiences which make Queensland's Sunshine Coast, just an hour north of Brisbane, such a popular year-round destination.
In fact, accommodation website wotif.com last year named the Sunshine Coast the third most popular destination in Queensland and seventh in Australia. With direct flights to New Zealand from the coast starting in mid-2012, the flow of tourists is bound to increase.
Our next stop for more family excitement is nearby - another of the Sunshine Coast's outstanding family parks, Aussie World.
This popular theme park, reminiscent of an old Australian fairground, has recently had a $2 million makeover which has added three new rides in a total of 30 rides and games.
We take a ride on the park's new water ride, Plunge, a log flume ride that's guaranteed to wet your pants as it plunges steeply down a ramp into a water splash - not once, but twice. Well, it wet ours.
A second new addition is the thrill ride, Redback. It takes the adventurous on a dizzying 16m high ride on a spinning platform. Best not to take the ride on a full stomach.
The third new ride is a Giant Slide which takes you on a rollercoaster slide. The new rides have helped Aussie World to enjoy a record number of visitors in the past year.
To round out our Aussie World experience, we enjoy some burgers at the theme park's oddball Ettamogah Pub which was opened in 1989. The first thing you notice is how cartoon-like the pub is. Not surprising given that it was designed to mimic cartoonist Ken Maynard's Ettamogah Pub cartoons which appeared in The Australasian Post from 1959. And, yes, that is a 1927 Chevy truck on the roof.
We head back to Caloundra and our excellent accommodation at the Rumba Beach Resort & Spa, a boutique hotel right on Bulcock Beach in the heart of town.
Our two-bedroom suite is beautifully and comfortably furnished, the Italian influence apparent in sleek lines and cool white tones. It has a fully-equipped kitchen. And, of course, there's a family spa bath in the main ensuite bathroom. This resort definitely has all the bells and whistles. Great for families.
D'licious Gourmet Hampers has kindly supplied us with a hamper of local produce which goes well with a bottle of wine enjoyed on the balcony of our Rumba unit with great views over Pumicestone Passage and, in the distance, the Glasshouse Mountains.
Some of those calories just consumed can be worked off with a walk along part of the 25km Caloundra coastal path from right outside Rumba Beach Resort and which hugs the shoreline from Golden Beach to Point Cartwright.
For a change of pace the next day, we head out for a cruise with Caloundra Cruises to enjoy the spectacular beauty, the history and wildlife of the Pumicestone Passage Marine Park. Our hosts Ken and Rosie have a vast knowledge of the park.
They share this with us as they point out the many species of birds - some of which have crossed the world to nest and feed here.
In the afternoon we hit the art gallery trail along the Blackall Range on the coast hinterland.
Tony Gill and Jane Caraffi of Art on Cairncross at Maleny in the Blackall Range, have an exhibition of the noted landscape artist Rex Backhaus-Smith running from April 14 to 29.
There are some great art galleries - 18 of them, in fact - with fabulous original Australian art along this scenic rim, a 40-minute drive from our base at Caloundra. Grab an art gallery trail map from any one of them. You'll also find some great restaurants, cheese factories and wineries to enjoy.
For the revheads among us, the volunteer-run Queensland Air Museum at Caloundra is a special place. It's collection of historic aircraft, some of them operational, and air memorabilia will keep us occupied for hours.
There'll be time tomorrow for us to visit yet another coast icon, Underwater World, and maybe even a visit to the famous Eumundi Markets before we head home. And there's plenty left for us to do on our next visit.
IF YOU GO
Where to stay: Rumba Beach Resort & Spa has an Autumn Deal: book any 1, 2 or 3 bedroom Resort Spa Suite or Luxury Ocean apartment for three consecutive nights in April or May and get an extra night free from A$660 for four nights. Included are complimentary sparkling wine, bicycle hire and a 'Dine in Style' discount card for great dining precinct offers.
What to do: Visit Australia Zoo and Aussie World and take a trip with Caloundra Cruises.
Further information: See visitsunshinecoast.com.au.
The writer was a guest of Sunshine Coast Destinations Ltd and the Rumba Beach Resort and Spa.