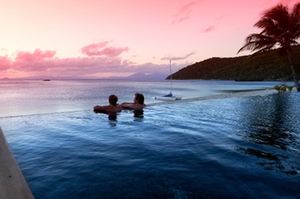 It's all happening in Queensland - from the reopening of the upgraded Orpheus Island resort to a plan to protect the turtles on Heron Island.
ORPHEUS ISLAND POST-UPGRADE
Exclusive Orpheus island resort on the Great Barrier Reef has undergone a A$7.5-million (NZ$9.6m) upgrade and reopened its doors on March 3, offering "the ultimate in tropical escapism".
With room for just 34 guests in beachfront rooms, suites and villas, the 11 kilometre long by one kilometre wide island is located 80km north of Townsville - a 25-minute scenic flight.
Within a World Heritage-listed marine park, the island comprises a 1300-hectare national park with sand beaches, fringed by coral reefs and with bush tracks through its eucalypt forests.
It's not uncommon for guests to swim alongside green turtles, manta rays and humpback whales.
There's also a 26m-by-13m infinity swimming pool overlooking the Coral Sea.
The resort, on sheltered Hazard Bay on the western side of the island, is laid out along a serene beach along with a main pavilion bar and restaurant - an option is to dine under the stars.
Refurbishments include a new alfresco-style dining area and pavilion bar.
The rooms include 32-inch television sets and mini-bars with complimentary drinks.
Also available on a remote part of the island are three eco-tents each accommodating two people and providing "a unique wilderness experience".
Two new boats have also been purchased for guest use, the Maree Ann and the Swift.
Guests can discover the secluded coves surrounding the resort's Lodge, ideal for picnics with a gourmet hamper, or try an Indigenous tour of the culturally-rich neighbouring islands.
Activities at Orpheus are plentiful: apart from the pool, there are many dive and snorkel sites that are home to 1100 of the 1500 species of fish on the Great Barrier Reef - and 340 of the 359 varieties of hard corals.
The Orpheus story dates back to 1930 when the only accommodation was a few humble huts along the beach run with the help of local Indigenous people - who still today play an integral role in its operations.
Nautilus Aviation operates scheduled daily flights between Townsville Airport and Orpheus - the transfer cost is not included in the room rates which are from A$1400 (NZ$1795) a night all-inclusive of meals, house wines, beers and soft drinks, use of sea equipment and activities and also a sunset cruise.
The eco-tents cost A$1000 (NZ$1283) per night.
RESORT TO PARTNER WITH ENVIRONMENTAL GROUP TO HELP TURTLES
To celebrate the annual turtle-nesting season on Queensland's Heron Island, resort owner Delaware North Companies (DNC) is partnering with the Sea Turtle Foundation, a non-profit, non-government organisation dedicated to safeguarding sea turtle populations, migration routes and habitats.
The season began in November with about 80 green turtles coming ashore every night to nest on this Great Barrier Reef coral cay.
"The partnership with the Foundation provides guests with a greater opportunity to understand and support these amazing creatures," said Michelle Kenna, Director of Marketing for DNC.
"The partnership will help to support the endangered turtles of the Great Barrier Reef including up to 900 nesting turtles annually on Heron Island.
"Foundation personnel and trained resort staff organise guided beach walks to watch the nesting and hatching," said Tim Harvey, a Sea Turtle Foundation director.
The Foundation hopes to buy a turtle stretcher for the island this year to help volunteers move trapped or stranded turtles with minimal stress.
PORT DOUGLAS RESORT TEMPTS GUESTS
Ramada Resort Port Douglas, situated in a pocket of rainforest complete with free-flowing waterways and lily ponds, has a "summer special" with rooms from A$89 (NZ$114) per night.
Port Douglas, north of Cairns in Far North Queensland, is where two World Heritage-listed areas meet - the Daintree Rainforest and the Great Barrier Reef.
The resort is close to Four Mile Beach and the village centre.
NEW GUIDE TO EVENTS IN CENTRAL QUEENSLAND
Capricorn Enterprise has launched the central Queensland region's first comprehensive online guide for the latest gigs on the Capricorn Coast, Rockhampton and the Central Highlands.
Updated every Thursday, the guide will list the hottest places to go and the best talent on show at pubs, clubs, concerts, live, acoustic, DJs and more.
- AAP