There is something both nauseating and exhilarating about reaching the dizzying heights of a 10-metre cliff, writes Mark Tadic.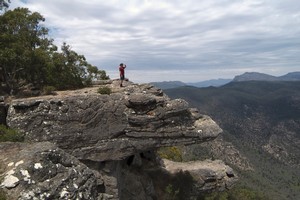 The terrain is flat. Not a rock in sight. Which is not a problem, except that I'm here for a climbing adventure.
It's not that the expanses of green countryside, occasionally blanketed by yellow azaleas, isn't breathtaking. But where are the rocks?
My spirits are then buoyed as we arrive at The Climbing Centre office in Natimuk and are reassured by guide Chris Peisker that somewhere, not far from where we stand, there are rocks and we will be climbing them.
Within minutes of hitting the road again, what I'd been searching for appear. Like a whale breaching the ocean's surface, is the great monolith Mount Arapiles.
After being saddled up with climbing gear and learning that Chris, our leader up the rock faces, is a 30-year veteran of the climbing world, we are led to the base of the beginner climbs that we will be conquering.
And these few are just a fraction of the 2000 climbs available on the mammoth landmark.
"It's a great area to get into climbing," Chris tells me.
"Some cliffs will just have really hard climbs but the easier climbs don't have the quality - Arapiles just has a full range of climbs across the board."
As if he'd orchestrated the next scene to prove his point, we reach the cliff to find school students speckling its face.
Inspired by the sight of all these students dotted along the cliff I volunteer to be the first up the 10 metre ascent.
I attack the first part of the climb with the vigour of a crazed ape and manage to propel myself half way up the cliff in no time. But I underestimate how taxing rock climbing is on my muscles - many of which I didn't realise I had - and have to take a brief break.
Equally surprising is the focus and planning required in deciding on the route and holds to go for during the climb. It proves a crucial tactical skill as I recommence my climb.
And so it goes: Survey the cliff above me. Pick a hold. Get a solid grip and pull myself up.
Then I reach the top.
There is something both nauseating and exhilarating about reaching the dizzying heights of a 10-metre cliff and gazing over the expanse of the Wimmera plains.
But even more nauseating is the plight down, when your faith is be unquestionably placed with your 'anchor', whom you may have met just hours before.
After my ability to trust is tested, and the pumping of blood has subsided, I acknowledge that the adventure portion of day one is done, and my focus turns to the next day's activities which would prove to be perhaps even more exhilarating - quad biking.
I know we are in for an adrenaline-fuelled adventure when our guide and Asses Ears Wilderness Lodge owner Steve hands us a contract to sign that documents the potential risks involved with quad biking: broken limbs, tree collisions, snake bites, rolling your bike.
A few nervous glances are exchanged as Steve reads through the contract, but we all sign and the safety lecture commences.
Then we are led to our chariots, the Honda TRX 250`s. These rugged four-wheeled beasts are just begging to be unleashed on the unsuspecting wilderness - and I am more than happy to oblige.
But I was getting ahead of myself and there was still a training course to get through. Once we had demonstrated our quad biking skills were sufficient, the real fun really did commence.
Steve leads us out onto the lodge's airfield where line up. His instructions are simple. Push our bikes to the limit and test their top speeds. (Cue Born To Be Wild soundtrack.)
With the throttle pushed to the max the ATV's are capable of hitting speeds of 60km/h, which when you're navigating unpredictable terrain that boasts rocks and ditches, feels more like 100km/h.
The adventure begins. From the airfield we are led onto a dirt track, which weaves through farmland and into the Grampians' countryside.
Steve had told us to keep our eyes open for local wildlife and within minutes of hitting the track we spy a pack of approximately 30 kangaroos. Startled by the roar of our engines, they make for an impressive spectacle as they scatter in all directions.
With 410 acres of property to explore there is no shortage of picturesque scenery, as we traverse through native bush and into stringy bark forest - the whole time our confidence and bike speed, increasing.
We are a pack of speed demons rampaging through the stunning Wartook Valley.
Just as we get cocky Steve brings us down a peg or two by leading us through a number of water crossings. Our vehicles earn their "all terrain" status.
As the tour concludes and we tear our way back through the Grampians bush, I can't help but wonder how, after two days of adrenaline-pumping action, I am going to return to the mundaneness of every day life.
IF YOU GO
Getting there: Grampians National Park is two hours' drive west of Melbourne or one hour off the Great Ocean Road.
What to do in the Grampians: Horse riding, four-wheel driving, kayaking, mountain biking, rock climbing and abseiling.
Where to stay: Try Aquila Eco Lodges, nestled in 100 acres of virgin bushland that borders Grampians National Park.
Further information: See visitvictoria.com.
Mark Tadic was a guest of Tourism Victoria and Grampians Tourism.
- AAP