Leah McLennan plays tourist in her own city at the five-star Crowne Plaza Coogee Beach.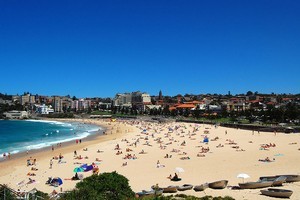 I can see why this Sydney beach was referred to as the "smelly place" by Aboriginal people.
My olfactory organ is overwhelmed - but not from the smell of decaying kelp that used to bother the original inhabitants of this area.
Instead, my nostrils are full of the stomach-rumbling aroma of lobsters and prawns grilling on the barbecue.
I'm about to be served an antipasto and seafood platter at the Crowne Plaza's Bluesalt Restaurant.
I'm at Coogee Beach - about 15 minutes from Sydney's CBD - playing tourist on a Friday night in my own city. I'll be overnighting at this five-star hotel, located directly opposite the attractive bowl-shaped beach.
Coogee - a little farther south of Bondi on the city's eastern coastline - is a more sheltered beach than some of the other nearby beaches.
It's ideal for families and for recreational swimming and there are also plenty of bars and restaurants in the area to ensure your thirst is quenched after a day frolicking in the Pacific Ocean.
After checking in at 2pm I spent the afternoon wandering about this laid-back beach suburb trying out its cafes and popping into the boutiques.
Most of the cafe action takes place on Coogee Bay Road, where I found J.T's Cafe and Sandwich Bar (excellent coffee), Gusto Espresso Coogee (more great coffee) and Maloney's Grocer (good place to stock up for a fancy beach BBQ of organic meat and artisan breads).
In between cafe stops I discovered some unique boutiques: Mackenzie Mode (a new boutique by local designer Emily Mackenzie), Cargo Store (pretty beach frocks and homewares) and By San Sebastian (an array of Aussie and foreign threads).
I'm now back at the hotel, enjoying this tasty BBQ dinner. Through the windows of Bluesalt Restaurant I can see the famous Wedding Cake Island, which sits 400 metres out from the shore.
This rocky island usually protects the beach from swells, but tonight it's being battered by the waves.
Wedding Cake Island - named after its shape and the bird droppings that resemble icing - was the inspiration for an instrumental single by Aussie band Midnight Oil, whose lead singer, Peter Garrett, lives in the area.
After a lychee cocktail I decide to turn in early and I drift off to sleep to the sound of an enraged ocean and the smell of salt.
At dawn I pull back the heavy curtains to find the sun has rediscovered Coogee and the locals are loving it.
From my fifth-floor window I can see the beach has become activity central - there's a fitness group doing star-jumps, two people standing on their paddle boards, a woman doing yoga and swimmers bobbing about in the ocean.
The whole of Coogee seems to be exercising, but before I put on my tracky daks and runners I head back to Bluesalt to indulge in a four-course breakfast.
I'd be hard pressed to find a better way to start the weekend.
IF YOU GO
Getting there: Coogee is located on the Pacific coast, 15 minutes southeast of the Sydney CBD.
By car: From Circular Quay or the city, take the Eastern Distributor and follow the signs to Randwick. Head south along Anzac Parade and take the turn to Randwick, then continue east towards Coogee.
By bus: Coogee is serviced by a number of bus routes. (See sydneybuses.info).
Where to stay: Crowne Plaza Coogee Beach has a relaxation package that includes overnight accommodation and a $100 food and beverage voucher, from $315 per night. The package is bookable via a new website for summer stays between December 16 and February 29.
What the locals wear: Thongs, floaty dresses and t-shirts.
Best for: The person who wants the beach and the big city at the same time.
Don't forget: Togs, sunscreen, hat, sunglasses and trainers for walking the cliffs.
The writer was a guest of Crowne Plaza Coogee Beach.

Getting There
Fly there with Air New Zealand Book now
Find out more at Australia.com