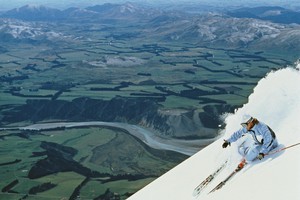 Australia's ski industry has taken potshots at New Zealand as it campaigns to get more people using skifields at home.
But the New Zealand industry says Australia should be concerned because it cannot compete with what is on offer across the Tasman.
In the face of growing transtasman competition for the Australian ski dollar, Australian resorts have joined forces to offer beginner ski passes and lessons for just $1 for one week in spring.
Snow Australia chief executive Colin Hackworth told Australian media the roads in New Zealand were "death defying", flights in New Zealand were often interrupted by poor weather, and people could not stay on snow in New Zealand.
When contacted by the Herald yesterday, Snow Australia marketing manager Nigel Abbott played down the element of competition between the two countries, saying the $1 campaign was about "growing the pie" for all skifields.
He acknowledged there was healthy competition with New Zealand - but did not want to comment on what Mr Hackworth had to say.
"It's not about a slanging match with New Zealand," Mr Abbott said. "What I would say is one of the nice things about Australia is the uniqueness. You can stay in the snow, which makes it a very unique experience."
New Zealand had its own points of difference, he said. But travelling to New Zealand skifields, especially as a beginner, represented a big cost for Australians, he said.
NZSki, representing Mount Hutt, Coronet Peak and The Remarkables, said it took the criticism of New Zealand as a "fantastic compliment". It showed the impact New Zealand was having, with Australian skiers "voting with their feet" and visiting in ever-growing numbers, said NZSki chief executive James Coddington.
Australians often commented on the better quality of snow in New Zealand, and were drawn to the experience of staying in alpine resorts where there was more than just skiing on offer, he said.
"If I was in [the Australian ski industry's] position, I would be very concerned with the New Zealand ski experience, because they can't compete with it," Mr Coddington said.