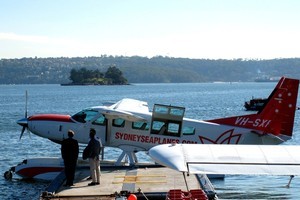 Cruising high above the Hawkesbury River in a red and white seaplane, the pilot spots the restaurant below and starts his descent.
The small Cessna, with its engines loudly whirring, glides in like a giant bird and lands on the watery runway.
Wearing aviator sunglasses and a white shirt he emerges from the Hobbit-sized aeroplane door and helps guide his passengers from the plane to the restaurant's pontoon.
The couple walk hand-in-hand through the front door and are shown to their white-linen covered table.
The lack of road access to Berowra Waters Inn on Berowra Waters in Sydney's north makes for great dining entertainment.
The Inn - a luxe river house sublimely perched on a hill overlooking the gently lapping water at Dusthole Point - is one of a handful of Sydney restaurants that can only be reached by air or ferry.
Over 10,000 years ago indigenous people used this location to cook their catch - these days Sydneysiders and visitors fly in to experience a six- or eight-course degustation menu created by Swiss-born chef and owner Dietmar Sawyere.
Berowra Waters Inn was acclaimed as Australia's first truly great gastronomic dining experience under the care of its founder Gay Bilson until it was closed in 1995. After that date it fell into disrepair, until 2007 when Sawyere took over the lease and breathed new life into the establishment.
The building is a Glenn Murcutt-designed rectangular glass box with blackbutt timber floors, a Sydney sandstone base and corrugated tin roof, surrounded by eucalypts and angophoras.
The menu, which changes from weekend to weekend, includes dishes created using traditional French and Italian cooking techniques but featuring modern Australian flavours.
Our menu included sauteed tiger prawn tails with oxtail and native pepper croustillant; ricotta and spinach mezzaluna, chanterelles and Tasmanian black winter truffle; and fillet of barramundi and calamari with jerusalem artichokes and kalamata olives.
For desert we had a lemon and goat's cheese cake with quince and hazelnuts; rhum baba with roast pear and caramel mousse; and a selection of petit fours.
The food proves as delightful as the serene location.
Out of the floor-to-ceiling glass louvre windows, hours passed by as my fellow diners and I watched the seaplanes come and go, dropping off hungry passengers and departing with well-watered and fed patrons.
SYDNEY'S FLY-IN-AND-DINE RESTAURANTS
Berowra Waters Inn, Dusthole Point
This restaurant can be accessed by ferry from the east or west public wharves at Berowra Waters, one hour's drive north of Sydney CBD, or by seaplane.
It's open for lunch Friday to Sunday, and dinner Friday and Saturday.
The six-courses menu is A$165 (with matched wines extra A$60). The eight-course menu is A$220 (with matched wine extra A$80 per person).
Sydney Seaplanes offers a return flight from Sydney CBD to Berowra Waters Inn. The tour duration is four hours, total flying time is 45 minutes, cost is A$580 per person, including flights and six-course degustation lunch.
This restaurant is one of Australia's most prestigious ocean retreats. Something of a Sydney institution, Jonah's salubrious guest list has included Laurence Olivier, Anthony Hopkins, Mick Jagger and Jerry Hall.
Sydney Seaplanes has a tour departing from Sydney Harbour late morning, tracking north past Sydney's northern beaches and touching down in the waterway of Pittwater.
The tour is A$505 per person, including flights and lunch.
Cottage Point Inn, Ku-Ring-Gai Chase National Park
This beautiful restaurant is perched on the water's edge in the heart of the Ku-ring-gai Chase national park. It's renowned for offering exceptional modern Australian cuisine.
Sydney Seaplanes has a tour for A$485 per person, including flights and lunch.
Since opening in 1982 Peats Bite has developed a reputation for long relaxed luncheons. It's unique three-course menu incorporates banquet style entrees with a la Carte mains and desserts.
Sydney Seaplanes has a tour for A$485 per person, including flights and lunch.
- AAP