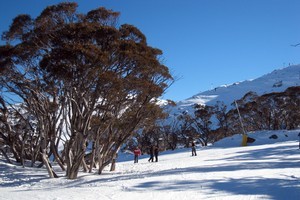 I've only had one go at the white powder and I'm addicted.
My brain is sped up, full of energy, and my tummy is abuzz with a mix of anticipation and hesitation.
I'm 10 minutes into a ski holiday at Perisher Valley in the NSW Snowy Mountains after a 10-year hiatus from the sport.
I'm standing on top of the mountain with my feet in parallel, seesawing back and forth. I take one last, deep breath in through my nostrils, tilt forward and then I'm off.
The long, flat pieces of carbon fibre and plastic attached to my boots make a schussing sound as they slide through the millions of ice crystals beneath me.
Out here, it's just me and the mountain.
I'm like Douglas Mawson discovering Antarctica. I'm battling it out against the elements.
Well... hardly.
If I do happen to get cold I can ski in to the Perisher Valley Hotel - my digs for the next three nights, conveniently located right at the base of this mountain.
In the 1980s, when I was growing up, my ski-breaks consisted of waiting at a service station at 4am for a bus to take me to the slopes for the day.
These days with ski-in-ski-out hotels, food halls and childcare facilities... the skiing getaway is a vastly different holiday to what I remember.
But, I'm discovering that feeling of freedom I get from skiing is the same no matter where I'm staying or what fancy skis I'm wearing.
"I find it exhilarating when skiing down those fast sections - it's pretty addictive," said Sandra Brown, of Sydney, while waiting for the T-bar at Perisher Valley.
"It's very beautiful and peaceful to ski through the snow gums high up on the mountain."
Neil Thew, manager of public relations and business development at Perisher, said there has never been a better time to learn how to ski with the improvements in technology.
"It all boils down to the invention of the snowboard. That really revolutionised the way the ski manufacturers thought about the ski shape as well," he said.
"Skis in the old days were very long and straight, now they're much shorter and they have a parabolic shape to them.
"That helps to initiate the turn a lot better."
In addition, many ski resorts like Perisher have carpet lifts instead of rope-tow lifts in their beginners areas, which makes the whole process of learning to ski easier, Thew said.
"All they need to do is shimmy on to the carpet and they get taken up and it's much easier."
Thew says he was originally attracted to skiing because it's something he could share with his family.
"There aren't many things that as a family you can do together and then sit around and talk about your adventures afterwards.
"I can go and ski with my wife and 7-year-old boy and have a ball, or I can ski with my mates and do crazy stuff and still talk about it to my son afterwards."
Thew, like myself and many other people on the mountain, seems to be battling a white powder addiction.
"It's something that I will always want to do," he says.
"It consumes you, it has consumed me."
IF YOU GO
Background: Perisher is a company that combines the facilities of Perisher Valley, Smiggin Holes, Mount Blue Cow and Guthega. It's the largest snow resort operation in the Southern Hemisphere. It has the highest terrain, the greatest number of lifts and the most reliable snow in Australia.
Getting there: By air: Aeropelican flies from Sydney and Newcastle to the Snowy Mountains. Snowy Mountains Airport Shuttles meet every Aeropelican flight with shuttles to and from Perisher.
By road: Perisher is a 5.5- to six-hour drive from Sydney via Canberra and Cooma or seven hours from Melbourne.
Staying there: There is a wide range of accommodation available at Perisher. For discounts on accommodation check the resort's Hot Deals page.
The ski-in and ski-out Perisher Valley Hotel has rates starting at A$558 (NZ$724) per person for two nights, including breakfast and three course dinners.
More information: See perisher.com.au.
The writer was a guest of Perisher.
- AAP