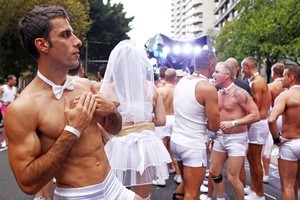 Sequins, frocks and lycra were in abundance in Sydney last night as the city's annual Gay and Lesbian Mardi Gras parade swept though city streets.
Marriage equality was the dominant theme of the parade, with many pairs of brides and pairs of grooms marching alongside revellers dressed as cheerleaders, nuns, and vampires, AAP reported.
At least 15 of the parade's more than 100 floats promoted marriage rights for gay couples, including those of Amnesty International and Labor Faces for Marriage Equality.
The Australian Marriage Equality Now float lampooned two marriage equality opponents, featuring giant figures of Prime Minister Julia Gillard and Tony Abbott, leader of the opposition Liberal Party in parliament, speaking to each other in thought bubbles.
Gillard was portrayed wearing a wedding dress, Abbott a brief bathing suit.
The marriage equality theme grew out of the "Say Something" campaign, calling for Australians to speak out for same-sex marriage, which has been the topic of heated debate.
One of the celebrities who helped get the parade underway was American actress Lily Tomlin, who has been a longtime campaigner for gay rights in that country.