Eveline Jenkin explores the Mandurah area in Western Australia.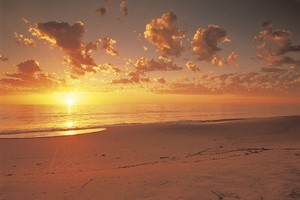 The woman at the Preston Beach general store clearly thought we were a few sandwiches short of a picnic when we dropped in for ice creams and mentioned we'd just been swimming.
"What? It's far too cold for that yet!" It was early December and 34C.
Her attitude perhaps explained why the beach - one of the most spectacular we'd seen in the south of Western Australia - had been all but deserted. We saw just a handful of other souls as we relaxed on the white sand and braved a few rounds of the pounding surf rolling in from the Indian Ocean.
By all accounts it does get a lot hotter than 34C in these parts, but the on-shore breezes help keep it tolerable and the dune grasses shelter narrow pockets of sand that are perfect for spreading a towel out on.
Even so, it doesn't pay to linger too long in the sun's harsh rays, hence our trip to the store for refreshments.
We'd come to Preston Beach on a whim as part of a day exploring from our base in Mandurah (see below), about 20 minutes' drive north. It's a tiny and pristine settlement which, since the 1950s, has been renowned as a fishing mecca.
The beach is rightly the main attraction but there are also a number of lakes in the area which are home to all manner of migrating birds. The closest of them, Lake Preston, can be accessed via a trail beginning at the information bay on Preston Beach Road.
A little further south is another of Western Australia's drawcards. The Dolphin Discovery Centre in Bunbury is one of the best places to get close to the ocean's most playful inhabitants.
The centre combines a land-based information and research facility with boat trips out into Koombana Bay to see dolphins in their natural environment.
Sometimes pods will also come close to shore and visitors can wade out to get a closer look under the supervision of one of the centre's volunteers.
This was to be our first encounter with some of the 100-odd bottlenose dolphins that call the bay home. Wading in up to waist height, it wasn't long before two swam over.
Standing just one metre away from the animals' muscular, yet streamlined, bodies made me reassess the impression I'd always had of dolphins as merely cute and playful.
They are undoubtedly both, but they're also hugely efficient hunters and can grow to as much as 400kg. It's wise then that the centre has adopted a look-but-don't-touch policy for those choosing to wade into the Interaction Zone.
Our beach visit over, we boarded one of the centre's boats for a 90-minute cruise across the bay. Almost immediately we located a pod of female dolphins who had gathered around a groyne.
Once they were done feeding, the dolphins were happy to play, cavorting within metres of the boat as it motored around the edge of the bay. All but one that is: She'd opted instead for a post-lunch snooze and was resting on the surface.
It's no mean feat taking a nap when there are potential predators about though and dolphins, being mammals, also have to remember to breathe. Luckily, they're biologically equipped to deal with all these potential pitfalls. When they sleep, one hemisphere of their brain remains active while the other rests. These mini naps generally last for just 30-90 seconds but over the course of the day it's estimated dolphins achieve about 6 hours' sleep.
Koombana Bay is a haven to which the dolphins keep returning for a number of reasons. Although they use echolocation very effectively to hunt, the bay's shallow waters make the task that much easier.
The Leschenault Estuary to the east also empties into the bay, ensuring there is a good supply of food all year round and, perhaps most importantly, Koombana Bay faces north, meaning it's protected from the predominant SE and SW winds and making it the perfect place for calving.
Heading across the bay in search of a few more dolphins we were lucky enough to spot some of the larger males. They're more adventurous and there's no guaranteeing they'll be in the bay between June and October but we'd arrived just in time for the November to June mating season, during which time they're quite happy to stay where the females are.
By the time we made our way back to shore we'd seen countless dolphins and picked up information on everything from how to differentiate between the sexes to how the bottlenose social hierarchies operate. Having the chance to wander through the information centre at the end was a great way to consolidate the information.
MANDURAH
Its proximity to such delightful experiences is one reason why Mandurah, less than an hour south of Perth, is an ideal place to base yourself when visiting the surrounding Peel Region.
A city of about 75,000 people, Mandurah has beautiful beaches and is home to a huge variety of bird species, including pelicans.
Some of the suburbs have been built on artificially created canal systems and you can hire a pontoon, or even a house boat, on which to explore them. Many of the city's bars and restaurants are situated on the tree-lined Mandurah Terrace foreshore or in the Boardwalk Precinct, a picturesque route that skirts Mandurah Estuary's Mandjar Bay.
CHECKLIST
Getting there: Air New Zealand offers daily flights between Auckland and Perth.
Getting around: You can pick up a rental car, 4WD or minibus from Budget Rent A Car at 960 Hay St in Perth.
Where to stay: Seashells Resort Mandurah is situated right on the beach at Comet Bay.

What to do: Bunbury's Dolphin Discovery Centre is open all year round and offers twice-daily dolphin watching cruises.
Further information: For things to see and do in the Peel Region search for Mandurah at westernaustralia.com.
Eveline Harvey visited Mandurah and Bunbury with assistance from Tourism Western Australia and Air New Zealand.