Two Kiwi chefs are working in the centre of Melbourne - a pressure-cooker city shaping enticing food trends.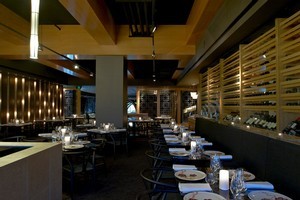 A new casual dining style is sweeping the city New Zealanders look to as our nearest gateway to gastronomic adventure. Melbourne has long been a foodie mecca, but right now it's revelling in a more relaxed approach to eating that suits Kiwi sensibilities.
Like the already adopted global trends to degustation dining, tapas menus, communal tables and pan-Asian influences, expect to see yet more shared light plates, meaty gastro-pub grub, slow-cooking styles and bars where you are as likely to eat as drink.
It's food for the times, reflecting an economic mood where people still want to indulge, but without the sense of breaking the bank with haute cuisine. A wine or two and a series of tasting plates may quickly add up to almost as much as a three-course meal in a more formal setting, but the outing feels less contrived - and so more palatable. Grazing rather than gorging is the order of the day, with neighbourhood bistros and ethnic-inspired eateries offering a range of tastes. Done well, this should be without compromise on food quality and service and with a growing emphasis on seasonal, local produce.
None of this is news to New Zealand's smartest restaurateurs, but the many average ones should take note that inferior offerings in a competitive market won't cut it, especially for diners who are able to hop on a plane for some comparative cuisine.
A recent week noshing and talking food in Melbourne underlined to me that while our best places across the price spectrum are up there, too many others lag, especially with lackadaisical or just plain ill-informed service. We also have few venues delivering the wow factor design-wise, which is forgivable given the flow-on effect to prices, but it would be nice to see more inventively styled interiors.
Casual shouldn't equate with careless, it's more about taking an unpretentious, honest yet innovative approach to food and creating an environment to match. (The likes of Auckland's new Cafe Hanoi in a heritage building in Britomart epitomises this approach. It's run by industry professionals, the dining and decor is fresh and the service friendly, efficient and informed).
Melbourne's reputation for world class food is deserved. The best Sydney restaurants increasingly have Melbourne outposts, with Neil Perry having just opened a Spice Temple to sit near his Rockpool Bar & Grill at the Crown Casino complex's unmatched restaurant enclave. It is also Melbourne that attracts the big names in world food instead of the flashier, pricier harbour city.
Making it here appeals to a chef's ego as evidenced by the likes of Gordon Ramsay, Jamie Oliver and Nobu Matsuhisa all having set up shop.
Foodie comings and goings make the news pages and local chefs are as revered as the big names.
But it is two New Zealanders who are the talk of the town, with much musing about the merits of Ramsay's Maze, helmed by his Kiwi right-hand man Josh Emett, who serves Marlborough salmon and sav blanc at Crown Metropol, the city's newest luxury hotel.
Transplanted Taranaki farm boy Ben Shewry was anointed chef of the year in The Age Good Food Guide Awards two months ago. He lovingly cooks idiosyncratic dishes, including a Violet Crumble dessert, at Attica in suburban Ripponlea. The restaurant made the San Pellegrino World's Best 100 list this year. Each Tuesday nights, his customers are offered a choice of whatever the small kitchen team is currently working on, with Shewry determined to remain a hands-on rather than celebrity chef.
Destination, rather than grand occasion dining, was reflected in the guide's overall restaurant winner, the Royal Mail Hotel in Dunkeld. Despite being a half-day's drive west from Melbourne, the tiny town is now well and truly on the foodie map thanks to chef Dan Hunter, who combines the molecular mastery he gained at Spain's renowned Mugaritz restaurant with the best of regional produce.
The awards generally celebrated casual dining, although the city's only three-"hat" restaurants remain the more formal French Jacques Reymond in Prahran and Vue de Monde. Shannon Bennett's Vue is soon to get a spectacular view, with a $7 million move planned from Little Collins St to the 55th floor of the Rialto Tower mid-next year. The lavish fitout, part of a tower regeneration project, comes with plans to make the restaurant not only carbon-neutral but also chemical-free, so out with laundering linen and in with sending scraps for composting.
This month, the restaurant family behind the venerable old lady of Bourke St, Grossi Florentino, will also expand its empire, with Guy Grossi due to open The Merchant on the ground floor of the refitted Intercontinental Hotel.
Another big ticket opening a few months ago was the ambitious and long delayed arrival of Duck Duck Goose, which combines French dining and Chinese yum cha in a stunningly executed U-shaped space.
Multi-functional venues and spin-off restaurants are all the go, with chefs realising that offering a range of price points while capitalising on their "brands" is good business in challenging times.
Vue de Monde now has a more affordable bistro and a cafe. This year tapas king Frank Camorra of MoVida, added the bigger MoVida Aqui in Bourke St to his two Hoiser Lane hideaways.
Homegrown super-chef Andrew McConnell continues his Midas touch with a much-lauded new restaurant housed in an old cutlery factory in gentrifying inner-city suburb Fitzroy. At Cutler & Co you will find an industrial chic interior, sous vide fish or hearty slabs of meat to share, followed by reassembled retro desserts.
As once-grungy Fitzroy is made over, adventurous diners are heading a little further into the seedy side, with neighbouring Smith St, Collingwood, rapidly being colonised by cafes, bars and restaurants. One of the most interesting is Boire, where its French owner offers pricier wine than food, with a rustic dinner choice of just two entrees, two $20 mains, and two desserts. The only downside about an evening visit is that the vintage shops are closed and the street types linger, but taxis may not.
Back in the CBD, McConnell's two-year-old Cumulus Inc remains a late night favourite of Melburnians. You can't book, as is increasingly the way, but it's worth calling by for coffee and cake, or oysters and a drink at the marble servery, or, if you time it, a table.
Failing that try nearby Mexican cantina Mamasita, where the new tastes, including tequilas and tacos, are piquant and there's nothing cheesy about the style, or visit Izakaya Den, a bar with superior Japanese snack food. Or snack riverside at Federation Square.
These are excellent examples of the sort of easy eating Melbourne excels at.
Maze by Gordon Ramsay
Think Gordon Ramsay and you expect large, loud, and in your face, but his Maze restaurant in Melbourne is more refined, and relaxed than the chef turned reality TV star's public persona. Perhaps it better reflects the restraint you'd imagine resident chef Josh Emett would have needed in his decade-long tenure as Ramsay's trusty offsider.
I'm not sure what I expected of Maze, a certain boldness of flavour I guess, but the taste experience was surprisingly delicate.
The menu is designed as a series of small plates, to share or not, with four to five per person recommended. There is also a set seven-course chef's menu, but the personalised mix-and-match approach appealed more than a series of mini mouthfuls. In either case, expect to pay about the same all up and be pleasantly surprised by the total. The chef's menu is A$110 and individual dishes range from $12 to $24, with wine, including half-pours, available from an expansive list, featuring plenty of New Zealand varietals.
Maybe that is partly due to New Zealander Emett, who relocated with his family from New York to oversee the establishment of Maze and its adjoining Maze Grill. The Grill looks on to an open kitchen and has an la carte menu and a three-course set lunch for A$47.
This is the fifth Maze, but it doesn't feel like a franchise. The food has clearly been adapted for the location. There's salmon and eel from Aotearoa. Let the Australians claim the lamington, though its component layers of chocolate, coconut, "rosella" jam and sponge are enticingly presented.
Giant cane light shades jut out overhead, the street is screened off, and the carpeted room snakes around from a bar, so it doesn't feel like a hotel seating 300. It's quite cosy, but the tables are a decent size and the professional staff pleasantly attentive.
Maze didn't quite earn the f-ing amazing accolade you imagine Ramsay would demand, but there's more longevity in being assured and not try-hard. This confident mix was on display in the likes of a plate of rock lobster, green beans and Jerusalem artichoke veloute, and another of lamb with cauliflower puree, anchovy and nettles. No, I didn't share them and yes, I'd like a repeat episode of Ramsay.
* Maze by Gordon Ramsay at Crown Metropol, 8 Whiteman St, Southbank ph (03) 92928300.
Duck Duck Goose
First I make a fool of myself by asking the owner if his new restaurant is some clever play on the French liking for pate de fois gras and the Chinese love of duck. No, he just thought the name, recalling a playground chasing game, sounded cute.
I'm not convinced; surely there's some statement here. The on-again, off-again, and finally open concept that is Duck Duck Goose is surely too complicated to carry a serendipitous name. When the Sydney-based Kam Fook group announced its plans in 2007, the intriguing prospect of an ambitious fusion of two of the world's great cuisines loomed, "bringing the tastes of Hong Kong to Melbourne via Paris", but actually it has ended up with two (and a bit) restaurants in one vast building.
Off a laneway and through a tunnel-like entrance, the diner steps into a spacious bar with a fish-scaled tin roof, dramatic dark drapery and white chesterfield seating in which to enjoy an eye-popping array of the best bubbles.
Step into the vast restaurant's "dark" side - the French fine-dining one - and it's formal seating and linen napery around an elegant water feature for the Black menu.
Parallel to this is the "light" or Silver menu side where Chinese dumplings, Ramen noodles and Asian main dishes are served on bare-topped white tables.
Bridging the two very different spaces is a timber first-floor walkway dividing the central kitchens and semi-screened off private dining areas. Step down from the Chinese section and you're on a level that opens on to bustling QV Square.
I went French. This side is definitely a big occasion location, good for celebration, but lacking a little in intimacy. The restaurant director is formerly of Jacques Reymond. The degustation menu, with a vegetarian line-up available, costs $120; many of the wines considerably more. The Black menu food is showy and sumptuous. Yes there's foam, but the tastes have substance, from hot parsnip soup over truffle ice-cream served with candied hazelnuts to a scrummy dessert of porcini chocolate fondant, via quail, oxtail and venison.
Early reviews have been encouraging, but it's still too soon to tell if Duck Duck Goose is a game Melburnians want to play.
* Duck Duck Goose bar entry is at 31-37 Artemis Lane QV, CBD. Ph (03) 9005 0888 to book for either restaurant. Email bookings@au-ddg.com for bookings.
Janetta Mackay flew to Melbourne with Emirates and Tourism Victoria and stayed at Crown Metropol, where she paid to dine at Maze restaurant.