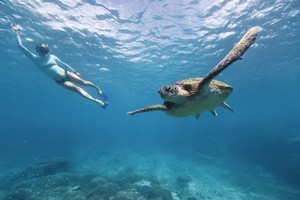 Australia's tourism industry has been warned its reputation is at risk unless it becomes more sustainable.
As well as painting itself a deeper shade of green, it also has to adopt a higher ethical standard and be more responsible, according to Ecotourism Australia CEO, Kym Cheatham.
Ms Cheatham says the industry has to do more, to protect its brand and reputation.
"Australia relies heavily on its natural environment, the Great Barrier Reef, Uluru, kangaroos, sunshine and wide open spaces but we run the risk of failing to deliver on the promises we are making to our international markets," she said.
The comments come ahead of the Global Eco Asia Pacific Tourism Conference in Noosa from October 25-28, where Ms Cheatham said adapting to climate change will be high on the agenda.
The UN World Tourism Organisation has identified climate change as one of the five major threats facing the tourism industry, and Ms Cheatham has urged the Australian industry and government to get serious about protecting and promoting the importance of the environment, for a truly sustainable future.
"The industry is under enormous strain at the moment, with a range of factors including the high Australian dollar pushing many operators to the limit," she said.
"We are going to see a considerable percentage of businesses buckle, just at the time demand for ecotourism and nature-based experiences is flourishing.
"Our product is not cheap, so it needs to be of the highest quality with the most credible ecotourism credentials; we cannot afford to compromise."
Ecotourism experiences are growing in Australia at about 20 per cent a year and Ecotourism Australia says the number of ECO certified products has doubled in the past three years.
Ms Cheatham said the tourism industry must find ways to protect the natural asset the tourism experience is built on, and provide travellers with guilt-free experiences.
- AAP