A temporary home on wheels provides a delightfully different way to discover new corners of Australia and meet fellow travellers and colourful locals, writes David Dewhurst.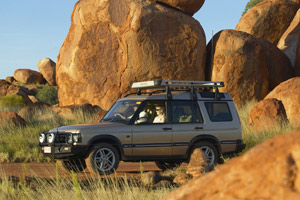 I topped up the glasses before returning the wine bottle to the ice-bucket in the esky-bin floating in the warm water beside me. The sky was darkening a little and the setting sun turning slowly apricot as an almost inaudible ripple in the glassy sea announced the arrival of our friend.
Quietly she slipped between us, smiling broadly, gazing expectantly into our eyes.
We turned our attention to the sun, watching it move closer to the horizon, sipping our wine as the western sky slowly transformed to brilliant orange, burnt by the last rays of the huge orb. Everything around us - land, sea, boats, people - turned a subtle shade of pink. Finally the sun disappeared over the edge and the sky quickly turned to black.
Our friend slipped away as silently as she had arrived. We finished the wine, waded to shore and strolled to our caravan as the warm, calm tropical night settled in. Our dolphin friend, at Western Australia's beautiful bay of Monkey Mia, would be back for breakfast tomorrow.
Just another magical experience during our circumnavigation of Australia by caravan.
Six months earlier my wife, Colleen, and I had left New Zealand as greenhorns, only ever having had one hopeless night in a caravan years before. Now, more than 10,000km from our starting point on the Sunshine Coast, we could almost be classed as veterans, wise to (nearly) every pitfall, relaxed, happy and carefree.
We should have done it years before but, like most people, commitments of every kind had laid their heavy boots on our desire to get out and go.
Now the boots had been lifted and we were free.
We had some doubts about how we'd like living in a van for a year (eg, how close do you want to be to your spouse?). We soon discovered the caravan was for sleeping, and the outdoors was for living, especially when following the sun.
After one night in our first park, everything fell into place, all the Aussies around us were friendly and helpful, all trepidation disappeared.
There's a tremendous amount to see in such a large country and many of the gems are far from the glitz of of Sydney, Gold Coast and Cairns. Of course, some are not so easy to access and that's where hauling your own house around comes into its own.
It also allows you to stop anywhere, far from any town, and relax under the stars, maybe swapping exaggerations with new friends over a drink or two around a campfire.
If we liked a place we stayed. If we didn't, we could be packed up, hooked up and gone in less than 30 minutes. By the end of our meander round Australia we'd set up camp more than 70 times, met hundreds of people, made a lot of new friends, and savoured countless different, exciting, awesome and sometimes slightly dangerous experiences.
Our starting point was Golden Beach Holiday Park in Caloundra, from where we headed south, mainly following the coast of Queensland, New South Wales and Victoria, stopping off at well-known places like Surfers Paradise and Coffs Harbour, Sydney and Melbourne, with a few detours to smaller towns along the way.
From Melbourne we took the spectacular Great Ocean Road to Adelaide and continued westward over the vast Nullarbor Plain - surprisingly cool really - into Western Australia.
Continuing the coastal path we dropped in at places like Esperance and Denmark on the Southern Ocean, then turned right and followed the Indian Ocean via the vineyards of Busseltown and Margaret River to Perth.
From Perth we deviated inland to New Norcia, Australia's only monastic town, which was hot, dry and red. Then it was back to the coast where the temperature grew hotter the further north we drove - sometimes to as much as 50C which is hot even for the locals - but at least there was the Indian Ocean to cool off in.
At the wonderful town of Kalbarri, for instance, there being no swimming pool in the caravan park, we all congregated in the warm water of the estuary with sunnies, hats and cold stubbies.
This proved to be one of our favourite parts of Australia. Kalbarri National Park is home to the Murchison Gorge, hidden 25km out of town over a dusty dirt track through parched country, but well worth the drive for the incredible red scenery.
As we hopped up the coast from Perth we came across a succession of charming coastal towns, places like Cervantes, Geraldton, Kalbarri, Monkey Mia - where we sipped wine with the dolphin - Carnarvon and Karratha, each of them unique.
Here we were driving through a harsh, dry, land, seeming to stretch endlessly ahead, the emptiness broken only by occasional animals, dead and alive, subtle changes in the shape of termite mounds, and occasional roadhouses, essential for refuelling, and a chat over a greasy pie, the camaraderie among fellow travellers increasing the further north we travelled.
But as we went north we were also closing in on the lingering wet season, a time of steaming humidity, impressive cloud formations, explosive thunder, incandescent lightning, and massive rain dumps, and the landscape slowly changed from red to green and from bone dry to great shallow lakes.
As we headed across the Savannah Way the going became increasingly tricky. Every bloated river and creek spread dirty brown sheets of water over huge untidy beds of long grass. Every ford was at least partially submerged. Where there was dry land, contented brahman cattle lay about on their abundant tabletop.
The Fitzroy River, on the brink of overflowing, almost licked the underside of the bridge where, despite the strong current and threat of crocodiles, a bunch of Aboriginal kids were diving and swimming in the floodwater.
At the Fitzroy River Lodge Caravan Park land and river seemed to be at the same level giving us the illusion we were floating. At the restaurant that evening a spectacular electrical storm created an instant spirit of camaraderie. And the next day flood waters around Halls Creek blocked our progress east and our chance to visit local attractions, like the Bungle Bungles and Wolfe Creek Crater. I guess we'll just have to go back again.
A few hours after escaping Halls Creek - but still surrounded by water - we pulled into a rest area beside a road train, this one carrying a bright orange, ocean-going, ship's lifeboat. Broome, the nearest port, was 800 kilometres away so I asked the driver if he was expecting more rain. His response, though colourful, wasn't pretty.
We escaped north to Darwin, explored the Red Centre, then made our way back east along the Gulf of Carpentaria, eventually arriving at Port Douglas where we lingered for a time, enjoying a final month or so of tropical weather.
But finally we had to take the plunge, said "We'll be back," to friends and slowly meandered our way down the coast to Golden Beach and our start/end point.
The entire tour took us a little less than 12 months. In that time we towed the caravan approximately 24,000km and drove the Land Cruiser, without the caravan, a further 10,000km.
For anyone with a sense of adventure, Australia offers many surprises, especially just off those long stretches of empty highway. So, when you do the big trip, don't hesitate to turn down that narrow dusty road. Who knows what you'll find at the other end?
And don't forget to take your sense of humour.

Getting There
Fly there with Air New Zealand Book now
Find out more at Australia.com