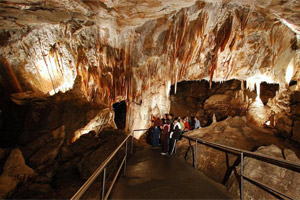 How would you like a four-day holiday for two admiring the scenery in the Blue Mountains and checking out the ghosts at the Jenolan Caves and at Sydney's historic The Rocks district?
Jenolan Caves, the Grace Hotel and Herald Travel are offering readers the chance to win a package consisting of:
* Return flights for two to Sydney with Air New Zealand.
* A sightseeing tour from Sydney International Airport though the Blue Mountains to the Jenolan Caves with Australian Boutique Tours.
* One night's accommodation at the Jenolan Caves House with a roast lunch, a dinner in the Haunted Miss Chisholm's Dining Room and a big country breakfast, a walk through the Lucas Cave and a Myths, Legends and Ghosts Tour.
* A sightseeing tour of Sydney.
* Two nights accommodation and breakfasts at the Grace Hotel in Sydney.
* A ghost tour of Sydney's historic The Rocks district.
* Admission to Sydney Aquarium and Centrepoint Tower.
To be in to win just write your name, address and a daytime telephone number on the back of an envelope, add the name of the mountains where the Jenolan Caves are found, and post to:
Ghost Holiday, Travel section, NZ Herald, PO Box 3290, Auckland 1010.
Entries must be in the Herald office by July 20 and the name of the winner will be printed in Travel on July 27.