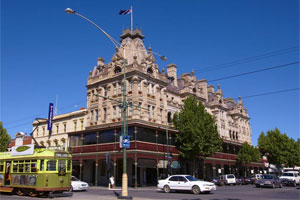 I'm wearing a hard hat complete with miner's lamp, blue Smurf-like overalls and black gumboots. No, it's not the fashion disaster that's freaking me out - it's the fact I'm about to plunge into the underworld.
"How safe, um, is it down there?," I ask the real-life miner, Rofey (also dressed like a Smurf, complete with a long beard), who's taking me into Bendigo's Central Deborah Gold Mine, in the old gold heart of Victoria.
He looks at me and laughs. Loudly.
Once he's finished roaring, he says: "You're as safe as you can be in a gold mine." How reassuring.
Nevertheless, I try to remain calm. Just ahead of us a tour group is preparing for the easier mine experience tour. One woman in the group, with a baby on her hip, admires my bravery for taking on the more challenging mine adventure tour.
This does nothing to calm my nerves especially when she asks if I'm fond of small, tight spaces.
I smile politely and nod, mostly because I'm now incapable of speech and rigid with terror.
Rofey presses on, unaware of my mounting panic. He talks of Bendigo's golden history; its role as one of the richest producers of gold and the lives of the miners who worked here.
But all I can think about is being buried alive and blurt out: "I'm not sure I can do this."
Rofey turns to me and rolls his eyes.
"Can I go with that tour group?" I beg, pointing to the group of young (and brave) children who are headed just 61m below the surface, rather than 85.2m.
With a nod of the head, I'm in. And before he can change his mind, I bolt for the cage and we're headed down.
I ask my new guide John if many people unexpectedly get the jitters like me. "The kids never do," he says.
"It's only the odd adult who sometimes hits the ground like a starfish and screams: "Get me out of here!"
I feel marginally better. But John has moved on, and delights in telling my new, less adventurous friends how gold placed the outback town of Bendigo on the world map more than 150 years ago, and how the area is still famous for producing plenty of the precious resource, veins of which he points out in the rock.
He is, if you'll excuse me, a mine of information and, as we walk through the mine - enlarged from its original size to cater for tourists - he enlightens us with all sorts of mining trivia.
We learn how miners would eat Cornish pasties with a special pastry "handle" which could be disposed of, preventing miners from having to handle their food.
Toxic chemicals and the absence of toilet facilities down here meant too much hand-to-mouth activity could result in sickness.
Not that that stopped some miners from swallowing gold in an attempt to smuggle it out of the mines for themselves. Some even resorted to hiding it in the "poo bucket" because, they thought, not unreasonably, it was the one place unlikely to be thoroughly searched.
We are shown vintage mining machinery (there's one machine they call the widow-maker, for good reason) and taught about how explosives were used by "powder monkeys" to get to the gold.
Like a lot of locals, John spends weekends panning or using a metal detector. He has even found the precious metal on the side of the road whenit's been dug up by roadworks.
The place you're most likely to strike it lucky, he reveals, is Whipstick Forest, just north of Bendigo.
He collects bits he finds each time he goes there and keeps it until he has a small pile, then cashes it in, usually for a good amount.
He finds plenty, he says, and shows off by adding: "I've just ordered another Harley".
John has had plenty of experience working in the mines, but now prefers life as a consultant or tour guide. "It's nice to not get dirty any more."
Lastly, he shows us a map of honeycombed underground tunnels and points to a tiny spot not far from the surface, demonstrating the small fraction of this vast labyrinth we've been exploring.
He reckons I should visit level nine "where rocks fall and it's exciting". I grin bravely and insist I'll be back. This time, I'm just about ready for an adventure.
CHECKLIST
Getting there: Qantas offers three daily services to Melbourne from Auckland and a daily service from Wellington. For the latest airfares, visit qantas.com, phone Qantas on 0800 767 400 or contact your travel agent.
If you go: It's worth remembering there's a lot more to Victoria than the fabulous shops and restaurants of Melbourne, or the views from the Great Ocean Rd.
Bendigo, with its fascinating, gold-fuelled history, is just a 90-minute drive out of Melbourne. It's also home to great food.
If squirrelling around a gold mine isn't your cup of tea, there are plenty of other sights and activities.
* Take the historic Talking Tram Tour, and hear stories about the city's gold-mining past and its heritage buildings. Pick it up at the Central Deborah Gold Mine or several other stops along the tram's 4.2km route through the city.
* The Bendigo Art Gallery is one of Australia's oldest and largest regional galleries. It is showcasing more than 70 works by Australian artist Frederick McCubbin Until July 25. But it also has an extensive collection of 19th century international and Australian art - as well as modern art.
* Climb the 125 steps to the top of the Poppet Head tower, another remnant of the gold mining era, in Rosalind Park and check out the amazing view - best at sunset. While you're there take a stroll along the picturesque path and ogle the plump bats in the trees.
* Head to the Golden Dragon Museum, which examines the lives of Chinese immigrants to the Bendigo area - from the lure of the gold rush in the 1850s to the present day.
* Bendigo Pottery is, at 150 years old, Australia's oldest working pottery. Get your hands dirty making your own piece, take a tour through the museum and maybe buy a piece or two to take home.
* Bendigo has always been something of a shopping hub and is home to Aussie retail icon Myer. Like Melbourne, the town has great lanes filled with interesting shops. It's particularly great if you're in the market for antiques or vintage clothing.
* Want fine dining? Try Whirrakee Restaurant and Bar. It's mouth-watering stuff - don't leave until you've had the marbled and juicy wagyu beef and a decadent dessert.
* Want to stay in the hub of the city? The Hotel Shamrock is the place to be. This grand Victorian residence oozes charm.
* Head to Ballarat and Sovereign Hill where you can dress in period costume, eat at a banquet, pan for gold, visit a recreated gold town and head underground to drink champagne. There's also a spectacular light and sound show that tells the story of the 1854 Eureka Rebellion. See visitballarat.com.au
For more ideas check out visitvictoria.com.au.
Rachel Grunwell travelled to Victoria courtesy of Qantas and Tourism Victoria
Find out more at Australia.com