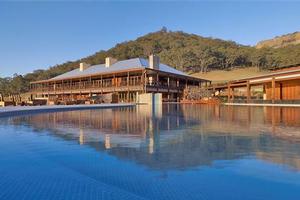 The final stretch of the three-hour drive from Sydney to the Wolgan Valley Resort and Spa, Emirates' new luxury development, consists of a bone-rattling gravel road - providing, of course, you don't arrive by helicopter (well, the resort does have its own landing pad).
One couple, so the story goes, phoned ahead to ask if they should bring the Bentley; advised to leave it at home, they arrived - in a very grumpy mood - in the Ferrari instead.
Emirates has high hopes for the $160 million resort, which is tucked into the picturesque Wolgan Valley, just beyond the Blue Mountains.
The company's first project outside the United Arab Emirates, it is modelled on the conservation-based Al Maha Desert Resort and Spa, near Dubai, and aims to attract a similar clientele of royalty and celebrities - although so far it has only notched up Zara Phillips, the Queen's granddaughter, and a clutch of retired sports stars, including Ian Thorpe.
Set on 15sq km, and overshadowed by the valley's sandstone escarpment, the resort consists of a main homestead and 40 free-standing suites, each with its own heated 7m lap pool.
Mountain bikes are a great way to explore the property, which includes a grove of young Wollemi pines, the Jurassic-age trees thought to be extinct until a hiker stumbled across some in the Blue Mountains in 1994.
Like Al Maha, Wolgan has a sustainable ethos, and is committed, among other things, to growing its own produce or sourcing it locally. The resort occupies only 2 per cent of the property, with the remainder earmarked as a predator-free wildlife reserve for the protection of endangered native species. Windmills, solar panels and rainwater tanks help to reduce energy and water use, although the 40 pools - plus a big infinity pool in the communal area - must contribute to a sizeable environmental footprint.
A range of "nature activities" are offered, in case you tire of lounging on your suite's wraparound deck, gazing at the shifting colours of the escarpment. A sunset wildlife tour is a good introduction to the area, even if the wildlife is limited, consisting of kangaroos, wallabies and wallaroos (another marsupial).
We found the colonial heritage tour a bit disappointing, as our guide was not terribly knowledgeable. Or maybe Wolgan's colonial history - there used to be a cattle-grazing property on the site, and an oil shale mine at the end of the valley - is not particularly interesting. There are, though, a number of Aboriginal cave paintings. Perhaps the most salient fact about Wolgan Valley is it costs a hefty $1950 a night (for two people).
So what do you get for your money? You get an exquisite, generously sized suite, combining rustic cosiness with design chic, and service that is pleasant and helpful, if a little unpolished. You get two free nature activities a day, which may or may not include horse riding: the staff - who are decked out in uniforms designed by R. M. Williams - seem reluctant to allow guests on their handsome steeds.
And you get all meals and some drinks; mini-bar snacks are not included, which seems rather miserly. Disappointingly, the food was poor. My snapper fillet (served with a risotto of crab, sweetcorn and scallops), was overcooked; my green salad was underdressed. A caramelised warm banana tart had received a sprinkling of salt rather than sugar. At the breakfast buffet, the fruit plates had flies buzzing around them. But perhaps the kitchen was having a bad hair day - I have spoken to others who had a better gastronomic experience.
Other downsides: the suites have been built too close together. (It was tempting to skinny-dip in the private lap pool, but only brave souls or exhibitionists would try it.) There is no mobile phone reception, although the resort claims otherwise. And the flies, at least in mid-summer, are oppressive. But this is a beautiful resort in an idyllic setting, and if you fancy a spot of escapism and money is no object, book into Wolgan Valley for a few days.
CHECKLIST
Getting there: Air New Zealand has flights from Auckland to Sydney starting at $284 return. Wolgan Valley is a three-drive from Sydney, the final stretch on unsealed road.
Wolgan Valley: At the resort, the standard Heritage Suite is $2552 a night for two people, including all meals and soft drinks, some alcohol and two nature-based activities daily. With three nights or more, the rate drops to $2172. The three Wollemi Suites, which sleep four, are $4580 a night, or $3893 if you stay three nights. The Wolgan Suite, which accommodates four guests plus two staff (bring your own butler), is $7198 or $6118. At these prices, it's a shock to learn that the mini- bar, with its pricey cookies and snacks, is not included.
Further information: See emirateshotelsresorts.com
Kathy Marks was a guest of Wolgan Valley Resort and Spa.