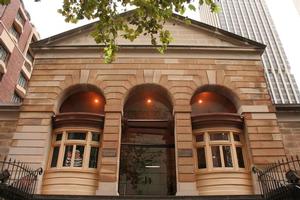 One area where Australia consistently outperforms New Zealand is crime. Real crime.
When it comes to classic, old-style gangster crime - vendettas and "So, you're the dirty rat that killed my brother" stuff - Melbourne takes some beating.
Little wonder the award-winning television series Underbelly about the city's gangland wars is so popular.
And Queensland has a long record of police corruption.
The reason Australia is more practised in these dark arts than New Zealand dates back to the arrival of the First Fleet, which pulled into Botany Bay then upped anchor and headed for Port Jackson, the site of present-day Sydney - with a cargo of 736 convicts.
It makes sense Australia trades off its criminal history and next month, Sydney - as if not to be outdone by Queensland and Melbourne when it comes to crime - will mount an exhibition called Sin City: Crime and Corruption in 20th Century Sydney at the Justice and Police Museum, which overlooks Circular Quay.
The museum, which invites visitors to "step into the dark side of Sydney's past", was originally the Water Police Court (1856) then three decades later the Police Court.
Today it has a remand cell, a gallery of mug shots, a collection of weapons used by criminals and a magistrates court for the enjoyment of visitors.
The Sin City exhibition looks at Sydney's vice trades such as prostitution, drugs, gambling and illicit booze, and police corruption. In 1974 a Sydney University economics lecturer alleged one casino he studied was pulling in A$2 million a week and shelling out A$50,000 in bribes to police and politicians. And that was when A$50,000 meant something.
The former Assistant Police Commissioner Geoff Schuberg, a young detective at the time, likened the flow of cash between casinos, police and politicians to "a big merry-go-round".
Property developers also used cash and strong-arm tactics to ram through apartment blocks on Potts Point (publisher Juanita Nielson who publicly opposed the development disappeared, presumed murdered) and yet there was no royal commission into the numerous allegations of corruption, graft and gangland thuggery.
The exhibition will expose even more of this unhealed scar in the city's recent history.
If it is crime, grime, the seedy side of life and some very nasty characters you are looking for, then Sydney can supply them.
As the American historian Alfred McCoy noted in 1986, "Any portrait of a modern capitalist city that focuses on art or architecture and ignores syndicated crime would be like one of those 18th century paintings of gentry ladies that embellishes the rosy cheeks and ignores the pox scars".
Sydney seems proud of its scars.
CHECKLIST
Further Information: For information on the Justice and Police Museum and others in the Historic Houses Trust group go to hht.net.au.
Graham Reid travelled to Sydney courtesy of Tourism Australia