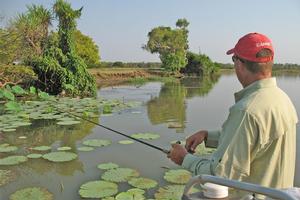 A rosy dawn has given way to crisp daylight when we arrive at the boat ramp at Corroboree Billabong, 150km east of Darwin. Rowdy cockatoos squabble in the eucalypts and wallabies watch warily from nearby grasslands as Trevor Robb, our guide from Darwin Barra Fishing, eases the boat into the water.
Along with Timo from Finland, my husband and I have joined Trevor for a day chasing Australia's most prized sporting fish, the barramundi. The billabong - which has 42km of navigable waters and is part of the Mary River system - is also known for its prolific wildlife, especially saltwater crocodiles.
We've just motored away from the boat ramp when a 3m beast rears out beside us, churns the water with a swish of its tail, then disappears into the depths. Others float with eyes just above the surface and sink out of sight as we approach, while some lie watchful on the banks.
Further on, Trevor points out a sea eagle perched in a riverside tree, a lanky jabiru shading its young with outstretched wings, and whistling kites soaring overhead.
Large flocks of magpie geese line the banks, and jacana - also known as Jesus birds or lily trotters - seem to walk on water as they tread lightly across lily pads where pink and purple flowers flare against the green. By the time we stop to fish, we've added brolgas, darters, spoonbills and sacred ibis to the birding list.
Barramundi are voracious predators that hang around submerged rocks and logs, so we begin trolling with plastic lures, feeding out lines and letting them sink deep while Trevor manoeuvres the boat slowly forward.
He stays close to the bank and the lures often bump against submerged obstacles, which causes some heart-stopping "I've got a fish" moments. Trevor assures us when a barra hits we'll know it, but they're not cooperating so we move. This time we're casting and retrieving from the stationary boat, still using soft plastics.
It's the kind of fishing I prefer, demanding a greater level of accuracy and concentration, but, since I usually use a threadline reel, I have the extra challenge of mastering the overhead variety. After a few birds' nests - patiently untangled by Trevor - I get the knack, but decide to practise towards open water while the others cast around the bank, the log, the lily pads and other potential snags.
Everyone settles into a relaxed fishing rhythm, lulled by the muted slap of water against the boat, the drone of dragonflies, and occasional murmured instructions from Trevor. Suddenly, Timo's lure gets hit hard, jolting us into a state of excitement as the Finn versus fish battle begins. Barramundi are famed fighters known for strong runs and flashy leaps, but Timo plays and lands barramundi number one with consummate ease.
The spot gives up another barramundi (Timo again) then we move on, stopping when Trevor spots a water buffalo on the arid flood plain. The massive beast plods towards us, sending thousands of magpie geese squawking skywards as it lumbers down to flop in the cool water. We half-expect a crocodile attack, but after watching it wallow undisturbed we continue up the billabong.
The chosen spot is another unlikely looking log, and once again Trevor's instincts prove right. Two more fish are landed in quick succession before we take a lunch break, which has its own touch of drama. We nudge up against the bank beneath an overhanging tree, unaware a crocodile has selected the same spot. It splashes away but, needless to say, we remain on board, eating our picnic lunch watched by a flock of magpie geese.
After lunch we continue the barramundi quest and by day's end, five good fish (55cm is minimum legal size) have been caught and released, while three more (undoubtedly much bigger specimens) have been lost. I'm the only one who hasn't caught anything, and I don't mind. For all of us, the day on the billabong has been far more than a fishing trip.
CHECKLIST
Getting there: Qantas has daily Auckland-Darwin flights via the eastern states.
Where to stay: Vibe Hotel & Medina Apartment Hotel share a centrally located site overlooking the fantastic new wave pool and Darwin Waterfront development. See vibehotels.com.au
Fishing: Darwin Barra Fishing provides freshwater and saltwater excursions using guides, boats and equipment. Trips are one to 14 days, and cover top end locations, including the company's fishing camp on Endyalgout Island.
Further information: australia.com, travelnt.com.
Heather Ramsay travelled courtesy of Tourism Australia and Qantas.