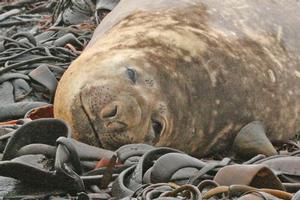 So there's this bull elephant seal having a snooze on the beach at Sandy Bay on Macquarie Island. It's not fully mature but still weighs in at a couple of tonnes.
And down the beach come a couple of Westies. Well, I say Westies, though actually they are royal penguins.
But if you could see them, with their streaks of slicked-back bottle-blond hair, and the swaggering walk despite their diminutive size, I'm sure you'd agree that they were Westies in spirit.
Anyway, the Westies arrive at the spot where the elephant seal is sleeping. Now this monster is vastly bigger than they are. They'd be lucky to weigh 10kg wringing wet. If it rolled over accidentally it would squash them flat.
But do they swerve aside? We're talking Westies here. They're not going to deviate by a centimetre from their chosen course. They carry on walking up the side of the elephant seal and down his massive back.
Unfortunately, while the penguins may be very light, the feel of little webbed feet on his skin wakes the elephant seal up with a start ... and he's not happy. Well, you wouldn't be, would you?
So he gives a great elephant seal bellow, shakes his huge body and twists round to see what has woken him up. The penguins fall off in a heap and for a while look at serious risk of being flattened.
Happily, the elephant seal calms down and goes back to sleep - which is what elephant seals do best. The Westies scramble to their feet and scuttle off home but with rather less of a swagger than previously.
And the human onlookers who watch this performance laugh so much they forget to photograph it.
As that indicates, Macquarie Island, 1200km south of Bluff, smack in the middle of the Furious Fifties, the latitude of winds that roar in a circle round the edge of Antarctica, is a surprisingly entertaining place.
We called in on the expedition ship Orion as part of a cruise of the Sub-Antarctic islands, including the Snares, the Auckland Islands, the Campbell Islands, all of which are part of New Zealand, and Macquarie, which due to an accident of history is Australian.
There are a few humans on Macquarie, at the Australian National Antarctic Research Expedition base at the northern tip of the island, but it is mainly populated by penguins, elephant seals and seabirds ... oh, and a vast number of rabbits, rats and mice which are doing their best to destroy the place.
You can easily spend hours wandering around, just watching these animals going about their daily lives. And, if you feel like it, you can even join in.
Just sit down on the beach, for instance, and chances are you'll acquire a bunch of new friends. I was photographing a gathering of royal penguins near the water's edge when another passenger from the ship came up to say, "You have an audience."
I turned around and there were a dozen royals, who had just emerged from the sea, gazing at me admiringly. I squatted down and chatted to them for a while, asking how the day's fishing had gone, and they nodded and cocked their heads as though they appreciated the interest, then headed for home.
But others from the Orion got even more closely involved. The captain of our ship sat down to take a close-up photo of a skua and it grabbed the strap of his camera and tried to pull it out of his grasp. My daughter Alex extended her fingers to a particularly curious royal penguin which, she said, "came up and nibbled them very gently".
Best of all, the Orion's French chief mate lay down on the beach to get a better photographic angle on some young elephant seals and one was so intrigued it came over, lay on him and even tried to give him a kiss. Those French will do anything for romance.
The fascination with visiting humans is probably due to the fact that only a few hundred tourists a year are allowed on the island because it is both a UN World Heritage area and a Unesco Biosphere Reserve.
A major reason for those designations being awarded is that Macquarie Island has a unique geology, being the only place where rocks from the planet's mantle, usually 6km below the ocean floor, are exposed on the surface, a phenomenon which attracts scientists from around the world.
But, to be frank, once you've seen a couple of pillow basalts and learned that they offer a unique chance to see what the ocean crust looks like, attention starts to move from the rocks to the amazing wildlife on all sides.
There's so much to see that Orion was supposed to spend two days here. Unfortunately, the weather map showed a horrendous pattern of extreme cyclones heading our way so we crammed all the activities into a single day and fled north.
We didn't need much convincing. Even on the way to Macquarie we got a reminder that these are treacherous waters, with the magnificent sight of an iceberg drifting by surrounded by circling albatrosses. There was another iceberg beached and melting just behind the island's research station. And through our visit the weather was appalling - though typical - with high winds, persistent drizzling rain, drifting mist and cool temperatures.
But who cared? As one of the other passengers remarked as we headed back to the ship in a zodiac, "I can't think of many places where you'd be happy to spend a day wandering round getting cold and wet. But I'd go right back out into the rain if we could stay a bit longer."
The stars of the show are undoubtedly the penguins, and there are a lot of them.
This is where the Mayor of Invercargill, Joseph Hatch, famously slaughtered some three million penguins and thousands of sea elephants for their oil. The huge digestors in which he boiled them up still stand rusting on the foreshore. Meanwhile the mayor has received posthumous fame of sorts thanks to Geoff Chapple's play Hatch which, over the past two years, has been performed all round New Zealand and will feature in the Hamilton Garden Arts Festival on 24-26 February.
Fortunately penguin numbers have recovered from that massacre. They're everywhere, zooming through the water in search of food, congregating on the beaches and clustered together in vast rookeries stretching inland up the hillsides. In the ultimate gesture of triumph they even nest in the digestors.
At one end of Sandy Bay are thousands of king penguins, tall by penguin standards, with elegant black and white coats, and beautiful gold cravats at their throats.
The breeding season was in full swing when we were there. Several birds were still standing on eggs but most had already hatched. And there were hundreds of fat little chicks, clad in shaggy brown fur coats, looking miserable and bedraggled in the rain.
The other end of the beach is the entry point to the sea for the cocky little royals, whose real home is a vast rookery in an inland valley, which they access by walking up a narrow pass.
The beach seems to be where the royals do their socialising, crowds gathering to greet birds newly returned from the sea, engage in a bit of mutual preening, have the odd noisy arguments and occasionally do a bit of flirting.
Macquarie Island also has a small population of rockhopper penguins, whose rookery is out of bounds, and around the research station are a few gentoos, with natty matching orange bills and feet, but it's the two regal penguins that dominate.
For the elephant seals, the other main attraction, the breeding season was over before we got there and the mature animals had headed back to sea. But those that remained, a mix of immature elephant seals and young weaners, were quite big enough.
The weaners lie in rows like so many giant sausages with big appealing eyes, beautiful eyelashes and lovely smiles. Their less attractive older cousins are mostly found in giant heaps of blubber out of which from time to time a huge head will emerge, open a vast pink mouth and utter a great belching bellow, then subside back into somnambulance.
There are also huge numbers of seabirds on Macquarie but the nesting areas for the most spectacular, the wandering, black-browed, grey-headed and light-mantled sooty albatrosses, are off limits to visitors.
We did see lots of big ugly giant petrels, including an impressive white morph, mostly youngsters standing on the beaches practising flying.
And everywhere there are cunning Antarctic skuas looking for anything edible, including, to our amazement, a baby rabbit which one bird pretty much swallowed whole.
It looked gruesome but actually was a good thing from an environmental point of view. The rabbits, originally introduced as a source of food, are now completely out of hand and have ravaged the ground cover to the point where the magnificent plant life you find on other Sub-Antarctic islands has gone and the landscape is collapsing.
Fortunately the Australian Government - possibly shamed by the fact that New Zealand eradicated such pests from its Sub-Antarctic islands several years ago - has finally decided to take action so this winter a A$25 million programme to remove all the rabbits, rats and mice, will get under way.
When that is completed, Macquarie Island will be even more spectacular than it is today . .. and, I guess, the Westies will be even cockier.
Checklist - Sub-Antarctic Islands
Further information
Orion Expedition Cruises visits the Sub-Antarctic islands, including Auckland, Campbell and Macquarie Islands, The Snares and Stewart Island, over the summer period. See www.orionexpeditions.com
Jim Eagles travelled to the Sub-Antarctic islands as guest of Orion Expedition Cruises.