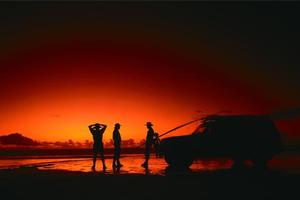 If it hadn't been for the fact that our host on Fraser Island started making chicken noises I would have given up trying to take a 4WD vehicle around the largest sand island in the world the first time I got stuck.
But in the face of her "pok pok pok pok-eet" I had no choice but to stay behind the wheel of our Suzuki Jimny and try to get it back to the Kingfisher Bay Resort, where we were staying, in one piece.
The island, with its 163,000ha of sand dunes, criss-crossed with tracks and ringed with driveable beaches, is obviously hugely popular with off-road enthusiasts.
We were there over an Australian holiday weekend and the place was buzzing with 4WDs laden with fishing equipment, camping gear and eskies - chilly bins to us - full of cold beer.
The drivers were obviously having a terrific time, swooping down the narrow sandy tracks (softer than usual, apparently, because of the dry weather and heavy usage), using skilful techniques to avoid getting bogged down in the soft patches, zooming up the wooden ramps that have been built up the steepest hills and roaring along the broad flat beaches (though only at the recently imposed speed limit of 80km/h).
Most of them set up camps on the various free sites along the edge of the beach and then got busy sitting back to enjoy the spectacular views, catch fish in the rolling surf, admire the amazing wildlife ... or test the capability of their vehicles by roaring round in the sand a bit more.
It all looked like great fun but, never having driven an off-road vehicle, I wasn't at all sure I would be able to cope with this giant sandpit. Fortunately, on our first day Kingfisher Lodge ranger Gen took the wheel and I marvelled at her skill in coping with the conditions while at the same time spotting masses of brightly-coloured birds, performing whales, cruising sharks and even a wary dingo.
The plan was that next day I would take out a vehicle.
But my confidence wasn't helped by a stop at Indian Head, a majestic stone headland, where a bypass track links two of the beaches on the eastern side of the island.
The beach below the head was like a huge parking lot covered with 4WDs whose occupants had stopped to take in the spectacular views from the top, do a bit of surfcasting ... or sit on their deckchairs, drink beer and watch the vehicles getting stuck on the bypass track.
Sure enough, while we watched a lot of vehicles did get stuck, some of them spectacularly, drawing enthusiastic cheers from the audience.
"It's one of the things they do here," said Gen. "Enjoy the sight of other people getting stuck in the sand." Ulp. The picture of getting stuck in the sand and being cheered sarcastically by a lot of smug Aussies wasn't a nice one.
Then again, I was very keen to get to Lake McKenzie, one of about 100 freshwater dune lakes on the island, and the only way to manage that was to drive myself.
The lake is a famous beauty spot and much admired for the clarity of its water, the magnificence of its bush surround and the fact that its silica sand is so fine it can be used to wash hair - yes, wash your hair with sand - exfoliate skin, clean teeth - eh? - or polish jewellery.
It's also home to the eastern long-necked turtle, whose neck can be as long as its body, which is ALLURING: If you are a novice off-road driver the island's sand traps and rutted, single lane tracks may prove challenging, but the view from Indian Head (above) is worth the effort.evidently very useful for striking at prey.
But the main reason I wanted to go is that a small freshwater fish called the purple spotted gudgeon lives in the lake and - this could be a bit difficult to explain - gudgeon is my favourite word in all the world.
You may - though hardly anyone besides my wife and I do - remember a Monty Python's Flying Circus skit on the power of woody words (it's at http://orangecow.org/pythonet/sketches/woodytin.htm if you're interested).
Well, I've always thought gudgeon was the woodiest word of all. Just say it a few times and you'll see what I mean: Gudgeon. Gudgeon. Gudgeon.
Until we got to Fraser Island the only meaning of gudgeon I knew of was the metal pin you screw into a post for a gate to swing on.
I have swung a few gates over the years but since moving back to Auckland opportunities for dealing with gudgeons have been non-existent.
The chance to come face-to-face with a different kind of gudgeon - one with purple spots - was too good to resist so, next morning, we climbed into the lively little Jimny 4WD and headed into the sand.
Actually, I thought my driving was pretty good for a complete beginner, even if Jodi Clark, the resort's petrol-head media manager, who was hosting us, did make a few snide comments about conquering the island at 16km/h.
In fact all was going smoothly until we struck a single-lane section of track which was particularly tricky, with a deeply rutted surface, a couple of vehicles coming the other way, and a passing bay that was covered in very, very soft sand ... and we got stuck.
I was appalled but Jodi was ecstatic. In the back of the vehicle she had brought along a set of Maxtrax, spiky plastic things you stick under your wheels when this sort of things happen, and she was almost shaking with excitement.
"This is great. I haven't had a chance to try them out," she said, as we scooped sand and put the Maxtrax into position. "I've been waiting for this."
The Maxtrax worked perfectly and we were quickly back on to firm sand which, I thought, was a great chance for Jodi to take over the driving, but she had other ideas. "Pok pok pok pok-eet." I got the message and reluctantly climbed back behind the wheel.
As it happens I didn't get stuck again. Well, only once, and that was because some of the boards in a wooden ramp had collapsed leaving a big hole, and it was easy enough to reverse out. So I'd say my foray into 4WDs was a success.
Lake McKenzie was as beautiful as everyone had said, the water was clear, refreshing and the perfect temperature for a swim, I did see some stunning insects and lots of birds, and the sand was indeed very white ... though I decided not to take the opportunity to clean my teeth with it.
I didn't spot any long-necked turtles, even though I went swimming with my waterproof, shockproof Panasonic Lumix DMC-FT1 camera at the ready.
I didn't find any purple-spotted gudgeons either, which was a big disappointment ... but at least I got a chance to say the word a few times.
Gudgeon. Gudgeon. Purple-spotted gudgeon. Marvellously woody and deeply satisfying.
Jim Eagles visited Fraser Island as guest of Kingfisher Bay Resort, Air NZ and Tourism Queensland.
CHECKLIST
Getting there: Air New Zealand has regular flights to Brisbane. See airnz.co.nz.
From Brisbane you can get to Hervey Bay's Urangan Boat Harbour - departure point for the Kingfisher Bay ferry - by train, plane, bus or rental car (numerous companies operate from Brisbane Airport).
Where to stay: Kingfisher Bay Resort is on the web at kingfisherbay.com or you can contact Go Holidays on 0800 464 646.
4WD vehicles can be taken to Fraser Island by ferry or you can hire from the resort. Driving in the national park requires a permit which costs A$38.50 ($47.99) for a month.
Further information: For more about Queensland see queenslandholidays.com.au.