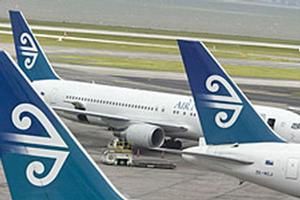 Air New Zealand is trialling a new direct service between Sydney and Rarotonga in the high season next year, while its latest operating update shows it is generally increasing the number of people on flights by reducing capacity.
The direct service from Sydney to Rarotonga will operate between July and October next year using a 223 seat Boeing 767-300 with a configuration of 199 economy and 24 business class seats.
The service is testing demand for a direct service between the two countries with a flying time of six hours from Sydney and seven hours 15 minutes from Rarotonga.
"We already carry a large number of passengers between Australia and the Cook Islands via Auckland," said Air New Zealand general manager Tasman Pacific airline Glen Sowry.
"The introduction of direct services will provide a valuable boost to the Cook Islands community and with the support of the Cooks Islands government and Cook Islands Tourism we will be working hard to make this trial a success."
The airline said the lead-in one-way economy fares from Sydney start at A$487 ($608) and from Rarotonga from $588.
The airline said its group load factor rose by 5.4 percentage points in November when a 10.2 per cent cut in capacity countered the impact of a 3.7 per cent fall in demand.
Air New Zealand carried 951,000 passengers in November, down 0.6 per cent on the same month last year.
Tasman/Pacific capacity was reduced by 17.4 per cent as the airline used smaller aircraft, reduced frequencies on some sectors and withdrew of trans-Tasman flights from Hamilton and Dunedin.
This resulted in the load factor increasing by 8.8 percentage points to 79.9 per cent.
Short haul passenger numbers decreased by 0.2 per cent compared to November last year.
In the domestic market, demand rose by 4.3 per cent compared to last year and the load factor rose to 77.5 per cent as capacity was cut by 3 per cent.
Long haul passenger numbers decreased by 3.1 per cent on last year. Capacity on the Asia/Japan/UK routes was reduced by 18.2 per cent in response to a 12.9 per cent decline in demand, resulting in loads increasing by 4.9 percentage points to 80.5 per cent.
Ninety per cent of Air New Zealand's domestic flights departed within 10 minutes of schedule departure time in November.
- NZPA