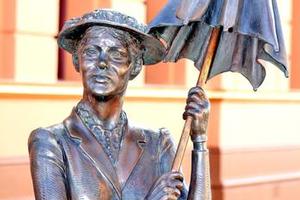 What do you think?" asks Carmel Murdoch. She points at the statue, reminding me to call her "Mary Heritage" because she's dressed in a 1850s period costume.
"Supercalifragilisticexpialidocious," I reply, since this is what you say when you don't know what to say.
A bronze statue of an umbrella-wielding English nanny? It's certainly not what I expect to find in an Australian town. But there it is, on the corner of Richmond and Kent Sts in Maryborough, north of Brisbane, a town which happily celebrates its link to fictional nanny Mary Poppins.
P.L. Travers - author of the Mary Poppins books - was born here in 1899. Her real name was Helen Lyndon Goff and she lived above a bank her father managed. It's now a private residence, but plans are afoot to transform it into a museum.
The Goffs left Maryborough when Helen was small. As a young woman, the ambitious writer moved to Britain, travelled widely and settled in the United States before returning to Britain.
She wrote a series of Mary Poppins books in England and they were later melded into a blockbuster film and stage musical.
Travers died in 1996 - reputedly an alert and often prickly old woman.
Arguably one of Australia's most commercially successful authors, P.L. Travers is often forgotten when the country's esteemed writers are listed. But she's huge - and certainly not forgotten - in Maryborough.
An annual Mary Poppins Festival showcases parading residents dressed as the nanny or other characters from the stories. Add a Mary Poppins-themed street market and a Mary Poppins flavour to rides on a small steam train operating all year in a local park, and Maryborough's in party mode.
Among the town's year-round attractions: daily walking tours led by Carmel Murdoch, the town's fifth "Mary Heritage". These are true travel bargains: they're free. "People turn up at Town Hall," she explains. "There can be one - or 50."
She guides them through the century-old Town Hall's council chambers and to a string of historic buildings - exquisite examples of colonial architecture. Some are now volunteer-run museums and galleries. Among her destinations is P.L. Travers' birthplace.
It seems faintly ridiculous: a line of out-of-towners tailing a woman in colonial-era costume down the main street. Locals barely blink. They've seen it all before.
At Town Hall Green we pause. Some visitors spread paper over 10 etchings of characters from Mary Poppins books to create souvenir rubbings.
Kiwis often skirt Maryborough, not stopping on drives to higher-profile Hervey Bay - with its beaches, shops, restaurants and attractions such as whale-watching. What's more, there's easy access to Fraser Island, the world's largest sand isle, where beaches and inland lakes beckon.
Hervey Bay's latest attraction is sunset camel rides, launched after one of Broome's camel train operators relocated with his animals.
Maryborough, established more than 160 years ago, is one of Queensland's oldest provincial cities. It was many immigrants' first glimpse of Australia, as well as an important hub for exporting timber and agricultural produce.
With port activity dormant, tourism is increasingly important.
Maryborough makes much of its closeness to Hervey Bay and Fraser Island, marketing itself as a cheaper alternative.
Two of Maryborough's attractions don't even require my leaving town. Volunteers, including Carmel Murdoch, lead "ghost tours" through a graveyard and a domed chapel.
I don't spot a ghost, but am regaled with tales of bloodthirsty crimes and unexplained events - served with a dollop of history.
We make nocturnal visits to colonial buildings, sample a "progressive dinner" with courses at several homes - and follow a torch-carrying "Mary Widow" into spooky darkness.
Next afternoon, aboard The Mary, I join 40 other visitors on a lazy cruise along the broad Mary River. Ex-seafarer Denis Kerr - locally known as Cap'n Denis - skippers the vessel, pointing out birdlife, buildings and boats as we chug past.
"That's where P.L. Travers was born," he indicates.
In Maryborough, there's no escaping Mary Poppins.
CHECKLIST
Getting there: Air New Zealand has several flights a day to Brisbane.
From Brisbane you can get to Maryborough by train, bus, rental car or plane.
Further information: See the Maryborough Fraser Island Information Centre's website.