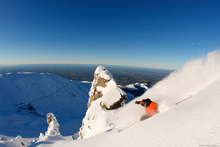 Three people were airlifted off Mt Hutt Ski Area today and taken to Christchurch Hospital.
A Westpac Helicopter spokesperson said the chopper made three trips to Mt Hutt this afternoon, the first to uplift a 65-year-old man with chest pain who was in a serious condition, and the other two to transport two members of a school group who had sustained back injuries.
Mt Hutt Ski Area manager James McKenzie said the two youngsters were suffering from signs of back injury or concussion and they were taken to hospital as a precaution.
He said Mt Hutt had two doctors and a nurse who worked on the mountain and they were able to assist the patients before the helicopter arrived.
"The medical crew proved their worth," he said.
The airlifts came on what was otherwise a busy day on the mountain, with around 1400 skiers making the most of the clear skies and good snow base, which is being maintained thanks to the cold temperatures blanketing the district.
- Ashburton Guardian
- APNZ