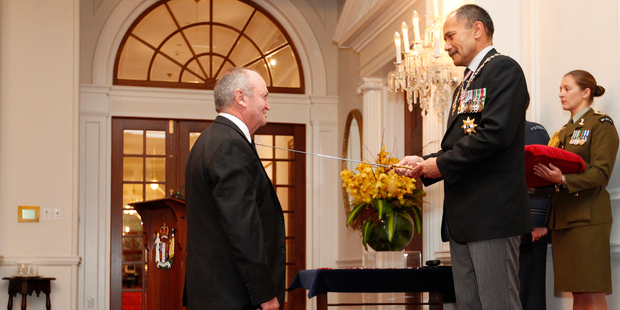 Sir Graham Henry couldn't persuade his mother to leave Christchurch to attend the World Cup final.
But the 96-year-old left the Garden City for the first time in seven years today to watch her son receive his knighthood.
Sir Graham was among 20 New Zealanders to receive an honour from Governor-General Lieutenant General Sir Jerry Mateparae at Government House in Wellington.
It was one of six investiture ceremonies being held this week.
Sir Graham received the knighthood for services to rugby with his mother Ann sitting in the front row.
"Mum's a royalist and she will love all [of today],'' Sir Graham said.
Although Sir Graham said he did not have too many nerves as he prepared to receive his honour, he kept one eye on his ailing mother the whole time.
His wife Raewyn, children and his siblings were also at today's service, making it a "very special day for the family''.
He acknowledged that he would not have been at Government House were it not for winning the Rugby World Cup.
"It's also a reward that I've accepted as part of a group of people, Richie and the boys, I have a huge amount of respect and pride for what they've achieved, for Steve and Wayne, fellow coaches, and the whole of the management team of the All Blacks.''
"I miss them, [we've] been good mates for a long time and I wish them well in the future.''
His family would be flying back to Auckland tonight for a celebratory dinner.
Sir Graham was last year named Coach of the Year by the International Rugby Board, the fifth time he received the honour.
He has coached more than 100 test matches with an 86 per cent success rate.
Also receiving awards at today's ceremony was Professor Margaret Brimble, who was made Companion of the New Zealand Order of Merit, for services to science.
Receiving the Companion of the Queen's Service of Order was Judge Paul Barber for services to the state, and John Tristram, for services to land search and rescue.