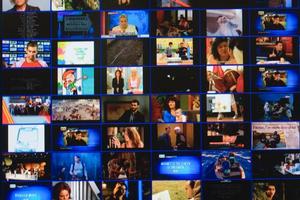 Noisy ads are a pain in the ear. Photo / Paul Estcourt
It's a perennial complaint that has many of us regularly reaching for the remote.
And the notion that TV adverts are louder than programmes has finally been backed by British authorities, who ordered one broadcaster to turn the volume down.
The decision has renewed calls for tighter controls on noisy ads in New Zealand, but Kiwi broadcasters deny there's a decibel difference.
The British Advertising Standards Authority upheld complaints that ads screened during a rerun of a Sherlock Holmes mystery were much louder than the programme.
The broadcaster - ITV - reportedly said the problem was caused by a change in production techniques since the show was made in the 1980s.
"There were many instances where the audio was nearly silent as the characters considered the mystery before them," a spokesman said.
Testing commissioned by the Weekend Herald in 2008 showed primetime ads on TV3 were 50 per cent louder than programmes and TV One ads were 20 per cent louder.
The testing, by the University of Auckland's acoustic research centre, showed the biggest difference to the human ear was the range between quiet and loud.
Ads had a much smaller sound range, giving the viewer fewer rests. The difference in range is deliberate, with advertising agencies using a technique called compression to make a punchier sound.
Rick Osborne, chief executive of advertising industry body the Communication Agencies Association, knew of 10 complaints to the Advertising Standards Authority about ad volume last year.
"Based on that small number of complaints it doesn't seem to be a major consumer issue."
But Consumer New Zealand chief executive Sue Chetwin said people complained regularly about loud ads.
"Even though there are all these technical arguments about sound compression, the fact is [ads] are louder. What people know is what they hear. They're not going to understand technical arguments about sound waves."
And Green MP Sue Kedgley says it is "indisputable" ads are much louder than shows in New Zealand, too: "There's no question that people hate it, and that people are aware that it's a technique that's used."
TV3 spokesman Roger Beaumont said this week the maximum volume of ads and programmes was the same. "The difference with commercials is that a lot of them are constantly at their peak, but with other programmes there are peaks and troughs."
And he said lowering the volume of ads would "open a whole can of worms" because certain shows were as loud as ads, and commercials would seem too "soft".
TVNZ's head of technology Peter Ennis said the network's broadcast was manually monitored to even out volume peaks.
A new computer-based system that includes audio processing would help further.
"This is as much a problem for the broadcaster as the viewers because we don't want to do anything that's going to make people either hit the mute button or change to another channel," he says.
But it was impossible to completely eliminate differences in loudness.
"There's a danger of interfering with the artistic integrity of the programme. For suspense you want quiet periods and then loud bangs of noise - if you block all that, you would lose the impact.'