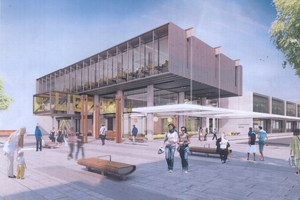 "It's not just a shopping mall, it's a town," the general manager of a property development company proudly told a suburban newspaper in Auckland last week.
It's not the first time that Campbell Barbour, commercial general manager of the New Zealand Retail Property Group, has been asked to defend the $1.6 billion Westgate town centre, stage one to open in November.
Do we want a new Megalopolis in West Auckland? And if we accept we do, should it be designed and built by property developers? Shouldn't that be the council's job?
Do you shudder at Mr Barbour's vision when you read him say, "It's fantastic to finally see buildings pop up out of the ground and the timing couldn't be better with the construction of the motorway and everything else that's popping up."
For those who aren't up with developments in West Auckland, 12 years ago the then-Waitakere City Council and NZ Retail Property Group started talking about creating a new centre on the strawberry fields at the end of the Northwestern Motorway.
Across the way from the 90s Westgate centre, a tribute to all that was worst in its era's commercial planning, the 56ha, 2km-long site is be five times bigger than the old big-box shopping zone. It will include houses and shops, offices, a library, town square and 6ha of outdoor space.
Pak'n Save will open before year's end; work's about to start on a Mitre 10 Mega store.
The council is spending $215 million to build a 3500sq m, $20 million library; 6ha of public space and parks, including cycle lanes, an $8 million town square and community buildings, a $5 million underground bus station.
Drainage, water, wastewater, data network, electricity, underground power, roads and footpaths have gone into what is said to be equivalent to a new Manukau or Albany.
Massey Henderson Local Board chair Vanessa Neeson is a supporter. "When I moved out here 30 years ago it was a sea of houses and we had to travel for work. Communities had no opportunities close to where they live. Now we should be able to have an economical, thriving community where we are," she said.
We have a romantic idea about how and why cities are where they are. We walk through the cobbled alleys of some quaint European hilltop centre, some chocolate-box village in the Cotswolds, a metropolis. Why is each where it is and how has it become what it is?
Apart from some oddity like Canberra or Brasilia, it'll be for one of three reasons.
There was water and food. Later it could be defended from the tribe over the hill who craved the water or food. Pretty soon it could be defended from them, or the even bigger tribe from several hills away who craved ...
And finally, it became a place to trade. A market town for sheep, wool, leather, butter, cheese, whatever.
The village grew into a town and the town grew into a city and the city grew into town grew and a metropolis like London, New York or Istanbul. Because of the shops and houses, the commercial opportunities, the commercial classes, the bourgeouisie.
Barbour says Auckland's northwest lacks a town centre, implying it's simply an aggregation of 80s and 90s and later subdivisions.
"West Harbour, Greenhithe, Hobsonville got built but there was never a town. Manukau was planned 30 years ago, Albany 20 years ago, now it's Westgate ... Some of the detractors have not grasped that the council's investment is not to deliver a new shopping centre but a new metropolitan centre which will be the economic hub for Auckland's northwest, one of the fastest growing locations in the country."
Spot on.
And long, long overdue.
- Ewan McDonald is founding editor of The Aucklander