Blaze angers community but plans already in place for replacement prefabs at Richmond Rd primary.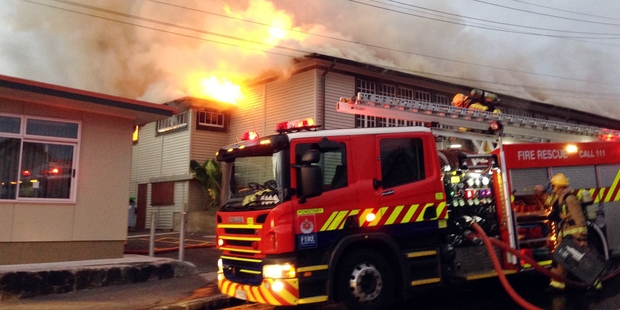 An arson which damaged four classrooms and destroyed a toilet block at an Auckland primary school has left the school community angry and disappointed.
The deliberately-lit blaze at Richmond Rd School in Ponsonby was set early yesterday, with firefighters called to the scene about 5.50am.
The fire - which was described as "significant" by the fire service - quickly took hold, igniting in a toilet block before moving through a classroom and spreading to the roof. Smoke and flames were able to travel easily through the ceiling void as there were no fire breaks built into the school, fire investigators said.
The toilet block was destroyed, and the first classroom significantly damaged, with three other classrooms suffering smoke damage. It was thought the roof which covers the entire block may need to be replaced.
Principal Stephanie Anich said the arson had come as a shock to the school community.
"Obviously we are really angry and disappointed that someone would do that to our school," she said.
"But on the other side, we've already got a plan in place, and new classrooms are on their way. The children will have classrooms to go into [when they return from summer holidays]."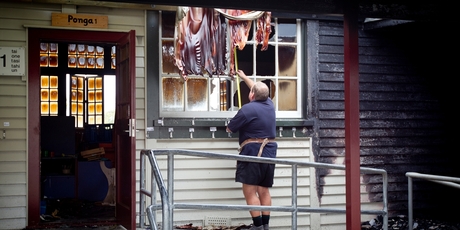 Ms Anich said as it was the holiday period most, if not all, of the pupils' work had been taken home, and had luckily not been ruined by the fire.
"From that perspective it's a bit of a positive."
The four fire damaged classrooms will be replaced with temporary pre-fabs to be situated on playing fields at the school, which has 359 pupils.
Building work on permanent replacement classrooms could take up to a year.
Ms Anich said it was too early to know the full cost of the blaze, but an assessment would be made today.
Tony Coleman, from the Ministry of Education's early response team Building Solutions, said classroom one, closest to where the fire started, was a complete write off.
"Classrooms two, three and four, there's smoke damage right throughout the ceiling cavities," he said.
Shattered and blackened windows were visible from the street, while corrugated metal roofing could be seen twisted and burnt.
Mr Coleman said it could take up to a year for the building to be completely repaired.
Temporary classrooms will be installed in the next couple of weeks before the new term begins on February 7, he said.
Meanwhile, investigators have determined the fire was deliberate, and say it is being treated as arson.
Lead fire investigator at the scene, Russell Dickson, said his team knew what caused the fire, but that information would not be released as a criminal investigation was being carried out by police.
- APNZ