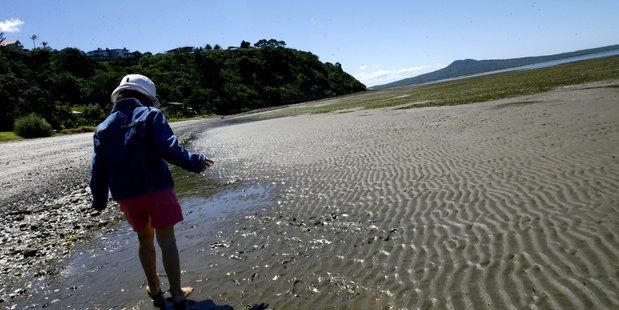 Aaah, Auckland. Don't you just love it, especially in summer? Look at your map book and wonder how they found enough green ink for the 1300 parks, not to mention reserves and beaches.
North Shore and Manukau have more than 400 parks; out West there are around 550. Manukau has 150km of coastal reserves; both the Shore and Waitakere have more beaches than you can poke a stick at.
Many are known only to locals - discovering all the hidden nooks and crannies could take a lifetime. Kirsten Grant has done the legwork so you can enjoy 10 amazing places in your own backyard.
1 ANY MORE FOR ANY MOIRE?
Moire Park, Massey East
How to get there: From the Northwestern Motorway, take the Royal Rd exit. Enter park off Allington Rd, Granville Drive, Moire Rd or Royal Rd.
You can do everything here -from seriously competitive rugby matches on one of the footie fields to a seriously non-competitive stroll through native forest along the Manutewhau Stream.
For a longer hike, cross Lawsons Bridge and head across the tidal water towards West Harbour with bush and sea views. Or picnic, jog, orienteer, fly a kite, bird-watch ...
2 A BRIDGE TOO FAR
Lake Wainamu, Bethells-Te Henga
How to get there: Head for Bethells Beach. When you're almost there, try to find a park just after the bridge.
We reckon everyone who calls themselves an Aucklander should visit Lake Wainamu at least once.
Follow the creek or hike over a massive inland sand dune to an amazing setting where you'll often find film crews at work. The black sand is hot in summer so remember your jandals.
Great for a picnic or lovely swimming. The buzzing is not mozzies: it's the sound of irritated locals now we've spilled the beans.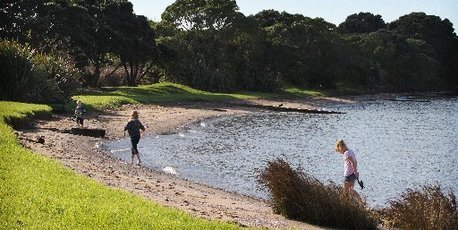 3 FOR THE BIRDS
Tahuna Torea Reserve, Glen Innes
How to get there: Follow West Tamaki Rd until it turns into Tahaki Rd.
The "gathering-place of the oystercatcher" is not well signposted so few know it's there. Which may be just as well: it's home to an array of endangered native birds. Spot them from the observation shelter next to Tahaki Rd or the lookout. Tracks wend around a central lagoon and sandspit next to Tamaki Estuary. Walks include bush, sandspit beach, dam top and lagoon. Dogs must be on a leash. Info: www.aucklandcity.govt.nz
4 SCREEN GEM
Halls Beach, Northcote Point
How to get there: From the Harbour Bridge, exit at Onewa Rd, first left into Queen St. Follow to Bridgeway Cinema.
Known only to locals, this tiny possie with stunning views of the Harbour Bridge is perfect for a picnic and swim in summer. Steep paths zigzag through giant palms and pohutukawa (one covers the beach). Public toilets, changing rooms.
5 OFF THE MAP
Kauri Point Centennial Reserve, Birkenhead
How to get there: Onewa Rd again. Pass Highbury shops, left onto Chelsea View Drive. At the end, across Onetaunga Rd, is a small carpark.
Next to popular Chelsea Sugar Works, this pristine reserve is covered in dense native bush and home to numerous birds including tui and tauhou (waxeye).
The many tracks are often steep and in varying condition. Take a street map so you know where you're coming out. One track leads down to Kendall Bay's secluded waters, perfect for children. Dogs on leash.
6 THIS ONE'S A KARAKA
Karaka Beach, Glendowie
How to get there: Tamaki Drive to St Heliers, up Cliff Rd, right into Glover Rd which turns into Riddell Rd. First left is Peacock St, the only access.
No wonder not many Aucklanders know it: you can't get there by car. From the street, a hairpin track leads to the grey sandy-shelly beach. Views of Rangitoto, Motutapu, Browns, Motuihe and Waiheke Islands.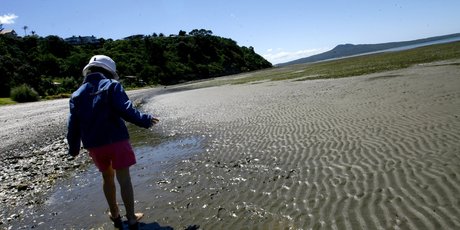 Swimming is a must when the tide is high. Some of the oldest pohutukawa in Auckland overlook a spot where the Treaty of Waitangi was signed in 1840. One monster stretching over the beach is perfect for climbing.
7 BASQUE CASE
Basque Park, Eden Terrace
How to get there: Exmouth St off New North Rd or Newton Rd.
Inner-city locals recently helped landscape this park and they're pretty much the only ones to know of its existence.
Three stone circles, one with a water feature, appear in a grassy bowl with young palms and pohutukawa peppering its slopes.
Now these are perfect for rolling down. When trees become established the place will be transformed.
A grassy area is ideal for the flat's cricket or rugby Test.
Gossip: we're told the park is the lunchtime tryst venue of famous faces and their lovers.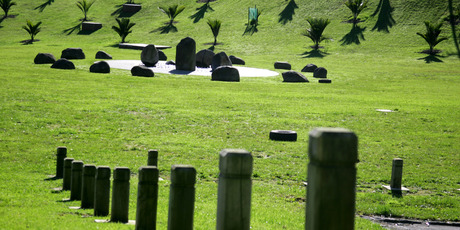 8 WET'N WILD
Wattle Farm Reserve, Wattle Downs
How to get there: Southern Motorway, Takanini exit. Turn right onto Great South Rd, first left is Mahia Rd. This leads to Coxhead Rd, right into Wattle Farm Rd.
Two parks for the price - well, they're both free - of one. The wetlands border Clayton Park Primary School and have an encyclopaedia of birdlife. Across the road are two reservoirs where geese, swans, ducks and pukeko thrive.
A loop walk through spacious, grassy areas crosses a stream before going up into the bush with Manukau Harbour views. Perfect for picnics, games and feeding the birds. Toilet; dogs on leash.
9 EASTERN PROMISE
Mangemangeroa Reserve, Howick
How to get there: Southern Motorway to South Eastern exit. Follow Route 10 to Ti Rakau Drive, turn right and keep going past Botany Town Centre to its end. Turn left onto Chapel Rd, right onto Whitford Rd then hard left onto Somerville Rd.
A walkway runs through native bush, past mudflats stretching along the estuary to Cockle Bay. Or walk through paddocks dotted with cows.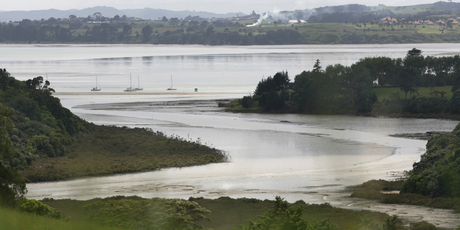 Ferries used to manoeuvre through the creek but now it's home to mangroves, crabs and hosts of birds. Beautiful lookouts and picnic spots. Dogs are tricky: they're allowed on a leash, except on the shoreline during bird breeding season, where they're banned.
10 TO DELL AND BACK
Dingle Dell Reserve, St Heliers
How to get there: Tamaki Drive again. Just past Kohimarama Yacht Club turn right up Long Drive. Fourth left is Fern Glen Rd.
Hidden amid genteel suburban streets, Dingle Dell is criss-crossed by tracks that ramble through open grassland and mixed forest. Joggers appreciate the varied terrain. Picnic tables, public toilets, dogs on leash.
WARNING: We visited the parks, beaches and reserves during the week. On weekends and public holidays traffic and access may be harder.