Acclaimed poet, writer and painter Albert Wendt was once the angry young man of Pacific literature. The 73-year-old is still teaching, has a new novel due out this year and is planning an exhibition of his art next year but he says the loss of his mother as a boy has haunted him all his life.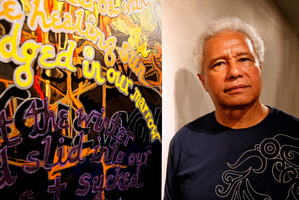 1. It's been quite the year for awards for you: first the Prime Minister's Award for Literature late last year and now being the Honoured New Zealand Writer at last week's Auckland Writers and Readers Festival. Do you feel privileged, proud ... or old?
I feel privileged and honoured. The recurring fear is: Have I wasted my life writing? So when people award you these honours, you can say, more or less, some people have read my work and value it, so it hasn't been a waste. But in my insecure elderly age, that answer doesn't last long. The inescapable fact is that I have only a finite number of years left. During the night I wake up to that - and am afraid, but it also propels me to write and paint more, and love my family and friends more, before time runs out. I also use that activity to (hopefully) keep death at bay! I'm sounding bloody morbid, eh!
2. You've written a bit about the death of friends recently, but it's a line about your mother that has stuck with me: She was the fabric of fairy tale, the golden key to each child's quest for the giant's castle (Inside Us, The Dead 1980).
How has her death affected you?
My mother Luisa died when I was at boarding school (in New Zealand) and I couldn't go home for her tangi. I knew she was going to die: my father brought her to Auckland Hospital for cancer treatment and they found it was terminal, so I farewelled her before they flew home to Samoa. I think she came to Auckland to say goodbye to me. Her absence has been a huge and influential presence in my life. Much of what I've done has been to earn her admiration and alofa. It got to the stage where I couldn't remember her features but one morning, when I was well into middle age, I was shaving and I heard her singing a Samoan lullaby and her features started to come back to me. We have tried for years to find a photograph of her, but never have.
3. Can you describe your first few weeks at New Plymouth Boys High when you arrived from Samoa in 1952?
Though I felt homesick and cold, I also felt invigorated being in a very new and strange environment. I knew how to read and write in English but much of the culture was absolutely new to me. I didn't even know how to use a knife and fork properly! Many of my Pakeha mates were more homesick than me: they used to cry themselves to sleep every night. We had a very caring couple, the Gardiners, as our house parents. Later in life, I became very good friends with them. And in those first weeks Taranaki became one of the most influential mountains and presences in my life.
4. What are your thoughts about the Salvation Army's report this week on how hard hit by the recession Pasifika people have been?
The report is not new to me. I have watched it happen over the years, the way our people have tried to survive in society. The factors are very complex but at the heart of it well, I don't want to use the word racism, but a lot of it is to do with that. If you are young and you have a Samoan surname and you apply for a job, it's more difficult for you. Life can be very demoralising with the high youth unemployment and it is sad to see so many young people going to Australia for work. But a lot are also going into tertiary institutions.
5. And Pacific culture is thriving in New Zealand?
Seeing that is one of the most exciting things in my life. When I started publishing in the 60s there were only a few of us writing in English - Hone (Tuwhare), Alistair (Campbell). One of the driving forces changing New Zealand art now is the blossoming of Pasifika artists and writers. We are copying what Maori have done in the Maori renaissance.
6. How does that fit with those negative statistics around health, poverty and unemployment?
Art has always been one way of expressing your suffering.
7. Have your politics changed over the years?
My politics have softened. I used to be very left wing, very red, very socialist, and my heroes were Karl Marx, Che, Ho Chi Minh and General Giap, Mao Zedong, Fidel Castro, and so forth. Now in my soft-bellied comfortable old age, I'm pinkish but not yet blue!
8. You're living in a house that (Labour Prime Minister) Michael Joseph Savage once lived in. Was that a factor in buying it?
We came to look at this place first with the agent and one of the first things he said was the house had belonged to Mickey. I thought "his politics I agree with, but I'm not going to buy the house because of that". Later I found out it was (All Black) Bryan Williams' house. He could have sold it to me if he'd told me that!
9. You taught at the University of Hawaii several years ago: what did you think of American culture?
Hawaii is not America; indigenous Hawaiians refuse to be called Americans because they consider their country was taken over by America illegally using armed force. One of the worst genocides of indigenous people happened in Hawaii. We thought that because English is the language of Hawaii we would find fitting into it easy. We almost left after three months of finding it difficult even to get a driver's licence. But we persevered and fell in love with the place and made many friends. Living and working in Hawaii were four of the happiest years of my life.
10. Do you worry about the state of publishing?
When I grew up the reading level and appreciation for literature was much higher in New Zealand than most countries in the world and every small town had a library and a bookshop. That's no longer the case. But e-books are great things too and I'm watching young writers now publishing their own work, and editing it and blogging about it and making contact with young writers all over the world. It's wonderful to have so much control. My niece made me get a Facebook page for my work and I have put out a few e-books. I don't really know how all the new technology works, but I've never been afraid of it.
11. What's the worst thing about modern life?
Our addiction to the consumer society which is killing our planet and ourselves. After this I'll be going to the supermarket where there is so much choice and we just consume, consume, consume. It's hard to avoid but we try to live simply.
12. Have you ever tried to paint your mother?
No, but that's a good idea. It would be abstract, I guess, feelings.
For my mother dances in the golden pavilion of my heart.
How she can dance!
Even the moon is spellbound with her grace.
• From the poem, My Mother Dances, 1985.