Dionne Christian checks out activities on offer during Auckland's Heritage Festival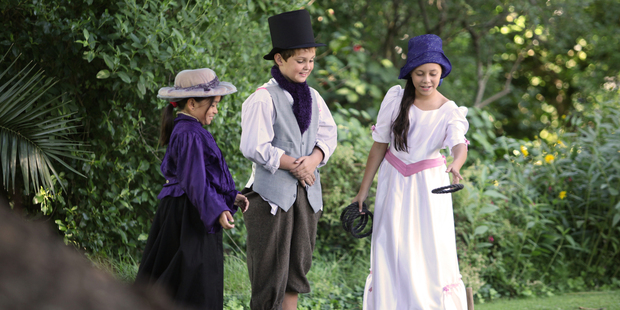 History whispers at us from every corner of our world: the buildings we walk past or the places where we spend our leisure time. Look and listen hard enough and you'll find they have tales to tell. The annual Auckland Heritage Festival, which starts today and runs through the school holidays (finishes October 13), has some great ways to enjoy a history lesson.
Pick up a booklet from your local library on all the events (there are around 200) or check Heritage Festival. Here are some of our highlights, but be warned - bookings are essential for a number of these.
Heritage Harbour
Before there were roads and railways, Maori and early European settlers used the waterways as their highways. The Upper Waitemata Harbour and Hobsonville are brimming with little-known history. Join one of Auckland Council's heritage advisors, Tony Barnes, on the Hobsonville Point ferry cruise to hear about the coastline, the characters and, in particular, the grand seaplanes that flew from Hobsonville to the Pacific. Departs from Pier 4, Downtown Auckland.
Saturday, October 5, 10am-12pm. Adults $10, children $5, family $25. Book at aucklandtransport.govt.nz
Working wharves
Queens Wharf's only original building, Shed 10, which dates back to 1910, has been beautifully refurbished as a cruise ship terminal and events space (you may have been sharing in the America's Cup drama there during the past week). Join architectural tours, children's workshops, classic cars from the Horseless Carriage Club, heritage games, and old-time entertainment from the Maritime Crew, the Salvation Army's Auckland Fellowship Brass Band and Jitterbugs Swing Dance Group (there'll be plenty of food and drink).
Public Open Days,10am-4pm queens-wharf.co.nz
Set sail, old-time style
As well as guided tours, the Voyager Maritime Museum hosts a tall ship sailing on the brigantine Breeze, so you can experience what it would have been like for traders in the late 19th and early 20th centuries. The heritage scow Ted Ashby will be out on the water at weekends; activities include a narrated tour on the the myths and legends of the Waitemata Harbour. The historic steam tug, SS Puke will also be sailing.
Ports of Auckland also runs heritage boat tours on the William C. Daldy steam tug or you can become a Waterfront Explorer, navigating your way around and through Wynyard Quarter and Queens Wharf finding clues on what has helped make Auckland a harbour city (collect packs from kiosks at Queens Wharf or Karanga Plaza).
poal.co.nz, yourwaterfront.co.nz.
Visit a Museum
The land-bound museums and libraries have plenty of school holiday heritage-themed programmes. Motat has the Turn Back Time Holiday Experience, where kids experience a day in the life of early 1900s Auckland, with Victorian games on the village green such as giant chess, stilt walking, horse and carriage rides, a coconut shy and friendly Punch and Judy show, as well as the I Am The Last Tram and Signposts to Godzone - Symbols of Popular Culture exhibitions. Auckland War Memorial Museum continues its free marine exhibition Moana - My Ocean and hosts a military heritage day of show with weapons' handling and collections from the NZ Military History Society. (Saturday October 12).
motat.org.nz, aucklandmuseum.com.
Auckland libraries pose a back-to-the-future challenge: Auckland, 2379 - the world is burning and humans are struggling to survive, when a scientist discovers a portal back to the past. Take the TimeQuest and decide what to save.
Manukau Library and Research Centre's Image Quest workshop teaches kids how to find about their community using local databases to make a collage scrapbook to take home.
Workshop Wednesday, 2 October 2, 11am. aucklandlibraries.govt.nz.
And don't discount smaller museums. The Papakura Museum has They Came By Ship activities which include making your own sailing ship. There's also the Warkworth and District Museum and Howick's Polish Heritage Museum for intriguing local stories.
papakuramuseum.org.nz, wwmuseum.orconhosting.net.nz, polishheritage.co.nz.
Sunday Drives
For one of the most comprehensive settler museums, head north to Waipu, a township steeped in Scottish heritage since Nova Scotian pioneers settled there in 1853. Using clear but lively story-boards, multimedia and interactive technology - watch for the pirate - and displays, the museum tells the story of those hardy early pioneers. waipumuseum.com . Alternatively, take the Twin Coast Discovery route along the Kauri Coast to the Kauri Museum at Matakohe, home to the largest collection of kauri gum in the world with great stories of how gum and timber helped build an economy.
waipumuseum.com, kauri-museum.com.
How we used to live
At the Howick Historical Village, walk around the 30 original buildings and get a feel for life in a Fencible settlement from 1840-1880. At the Live Day on Sunday October 6, learn more about the trades that Auckland's early settlers worked in with demonstrations from a blacksmith and bodger (a wood turner who specialised in making parts for chairs), or the kids can join Boots and All which celebrates the "can-do" attitude of the pioneers.
Historic house Highwic in Newmarket hosts parlour parties with good Victorian fun for youngsters bored with computer games - blind man's buff, musical cushions, quoits, croquet and a treasure trail. Or join in baking sessions on a real coal range.
Parlour Parties October 2, 3 and 9; coal range baking Thursday October 3 highwic.co.nz
Get up close to a line-up of pre-1918 vehicles at the Heritage Run with veteran vehicles on Sunday, October 13. A selection of prestige vehicles will be displayed on Princes St from 9-9.30am before they drive in convoy to Motat where they'll be from 12.30-3pm.
The large Victorian/Edwardian family home that now houses Takapuna's Lake House Arts Centre has an open day with heritage crafts, vintage cars and costumes, as well as the artists' studios. It holds a heritage-themed school holiday programme, too (bookings required).
Sunday October 13, 10am-3pm. lakehousearts.org.nz
Military history buffs can take a tour of the defences at North Head where there are excavated caves to explore, the control centre, guns and the saluting battery of Torpedo Bay and North Head.
Fort Takapuna Historic Reserve has an open day from 10am-3.30pm, Sunday October 13.
Navy Museum, 64 King Edward Parade, Saturdays and Sundays, October 5 and 6, 12 and 13. Free, but bookings required. aucklandtransport.govt.nz
Community heritage
The most unusual heritage event has to be at Avondale's cemetery, a dance, sound and light presentation on how the area's pioneers lived and died. Free, and suitable for kids.
George Maxwell Memorial Cemetery, 208 Rosebank Rd, Sunday October 6, 7.30-9pm stjudes.co.nz
Explore New Lynn's cultural and manufacturing heritage in large-scale, weird and wonderful temporary installations by University of Auckland architecture students. Collect self-navigation trail maps from the new shared street in the "Merchant Quarter" (opposite the train station and along Totara Ave).
Here Now: Re-imagining New Lynn, Thursday October 10 (5-10pm), Friday 11 10am-8pm, Saturday, 10am-6pm, Sunday, 10am-5pm. here-now2013.tumblr.com
There's a free open day at the gently restored Old Papatoetoe Railway Station and you can also see a a Clow windmill, one of only three left in the country.
1 St George St, Papatoetoe, Saturday October 5, 10am-3pm.
Mangere Bridge celebrates its past as a hub for Maori settlement and a prime spot for Chinese market gardens with a Chinese market, including entertainment, fashion show, and pony and cart rides, Maori crafts, food and entertainment
October 12 and 13, 9am-1pm. mangerebridgevillage.co.nz