As Auckland merges to create a supercity, the Herald looks back at how Auckland has changed over the years. Click here to view the full series.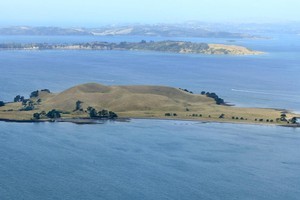 The Waitemata was silent, the sea calm. A solitary boat nudged into the harbour with no breeze for its sail. The only sound around the men on
board was the splash of their oars.
Their eyes would have swept the near shore for signs of life but all they saw on hills and in bays they would come to know as Kohimarama and
Mission Bay were wild manuka and tall fern glinting green in the sunshine.
Their helmsman was an American who had been trading at Coromandel long
enough to pick up some Maori language. He could converse with the oarsmen he had hired for this journey across the Hauraki Gulf.
His passengers included two young Scots who had arrived on the Coromandel with a scheme that was bold and, though they might not have
known it, illegal.
One of them was tall and lean with long fair hair that he frequently brushed aside with his hand. His name was John
Logan Campbell. He was 23. His companion, shorter, dark, stocky and eight years older, was William Brown.
They were looking to make money. A few months earlier Britain had annexed New Zealand through a treaty with Maori chiefs at the Bay of Islands. Campbell and Brown had seen enough of colonisation to know that the first buyers of land could make a fortune.
Maybe they did not know that one of the Treaty terms stipulated by Britain was that only the Crown would have the right to buy land
from Maori.
Brown, a lawyer, had been at the Bay of Islands when the Treaty was made, Campbell was a medical graduate. If they were aware of that detail it did not dim their hopes of getting in ahead of the Governor as soon as he announced where his capital would be.
The Governor, William Hobson, was known to be considering a site in the Hauraki Gulf, or "the Thames" as Captain Cook had years before.
Campbell and Brown thought Coromandel a fine site but whenever they had mentioned that to the American, William Webster, he told them: "Wait till you see the Waitemata". He wouldn't elaborate but he was insistent: "Wait till you see the Waitemata."
It was easy to miss the Waitemata, hidden behind islands that studded the Gulf. Cook had missed it. He had gone right to the Thames headwaters and some way up the Wairoa River, but the day he sailed back was wet and stormy with low cloud that did not let him see the entrance to the wide harbour behind Rangitoto.
Maori knew the Waitemata well. The south shore, they knew, lay just a few hours walk from another harbour, Manukau, which opened to the opposite coast.
The isthmus was the narrowest point in all of New Zealand. The arms of the Waitemata stretched so close to the Manukau at two places that waka could be carried or rolled on logs from one coast to the other.
The land was a natural crossroads for journeys of all sorts, as well as being a fertile volcanic garden with a sheltered coast that supplied abundant seafood. Maori called it Tamaki Makau-Rau, Tamaki of a hundred lovers.
But on this late summer morning in 1840, Tamaki was deserted. Its landscape, once dotted with Maori villages and gardens, had been abandoned in terror 15 or 20 years before. War parties had come from the north newly equipped with firearms.
The resident tribe, Ngati Whatua, had fled south to seek refuge
with Tainui. By 1840 they were returning cautiously, living on the northern shore of the Manukau.
The fear still lingered for them as it did for the oarsmen in the
boat bearing Campbell and Brown. Hauraki Maori had also been established on the Tamaki coast until Nga Puhi muskets drove them out.
A Pakeha settlement offered a host tribe some security as well as trade. Ngati Whatua had already convened an assembly of Tamaki
chiefs that had sent a deputation to the Governor inviting him to make the Waitemata his capital.
The Governor was clearly interested. When he brought the Treaty to Tamaki he had also brought surveyors to look at several locations around the harbour.
Meanwhile, Ngati Whatua had re-established kumara and potato gardens at Orakei, Remuera and the Horotiu valley that would become Queen St.
It was to Orakei that Webster was steering his boat that morning. The Maori called him Waipeha and that was the name Campbell gave him many years later when writing his memoir, Poenamo.
They arrived, as Campbell described it, at "the mouth of a deep bay which Waipeha pronounced to be Orakei". They "turned sharply left and made for the head of it, and, as it was high water, we were able to land at a small shelly beach at the base of some lovely wooded slopes".
They went ashore at a point where the bay, soon to be named Hobson Bay, meets Orakei Basin. There they found a small village with its hut doors tied shut with flax-leaf and no one about.
Webster guessed they would find the Ngati Whatua at their main village and fishing grounds on the Manukau and he, Campbell and Brown set off to cross the isthmus on foot.
They climbed the slope from Orakei Basin to the Remuera ridge, through fern and tangled vines. Campbell later wrote: "Evergreen shrubs grew on
all sides, of every shade from palest to deepest green; lovely flowering creepers mounted high overhead, leaping from tree to tree and hanging in rich festoons; of beautiful ferns there was a profusion underfoot.
"The tui, with his grand rich note made the wood musical, the great, fat, stupid pigeon cooed down upon you almost within reach, nor took the trouble to fly away."
Up on the ridge they looked back to the Waitemata and the Gulf and resolved to buy those very slopes, if they could, "to supply impatient, intending settlers with town, suburban and country lands to their heart's content, or rather to the extent that their purses would give power of paying".
They resumed their walk and in an hour reached the foot of Maungakeikei, which they called One Tree Hill on account of the solitary tree on its summit. There they had their first sight of the
Manukau and felt the southerly breeze from it. Soon they also sighted smoke rising from Onehunga where the village was preparing a midday hangi.
They arrived in time to be served pipis with kumara and potato in a plaited flax basket, followed by a drink of fresh water from an Onehunga spring.
They were told the man they needed to meet was at a fishing camp not far away, across a narrow waterway at Mangere. Borrowing a canoe, they paddled across to see him.
Apihai te Kawau, chief of Ngati Whatua o Orakei, must have gazed at the young pakeha with inward amazement.
He did not know them, had not met them before. Clearly they had no idea he had sent a delegation to their Governor at Waitangi, that his delegates had travelled back on the Governor's ship, and that discussions were now well advanced for a capital on the Waitemata.
This pair believed they could walk in and declare they wanted the sunny north slope of Remuera. Remuera faced Orakei across an attractive inlet. That was land his people intended never to lose. His reply was blunt and the meeting brief.
But there was land a little further up the Waitemata they might have, he told them. Campbell and Brown said they would look at it.
On their homeward walk they climbed the volcanic cone near the Remuera ridge (Mt Hobson) for a panoramic view of the isthmus and the Gulf islands. The islands were in the territory of Marutuahu chiefs, who had already sold rights to some of them - Aotea (Great Barrier), Motutapu,
Motuihe, Rakino - to Webster and others.
Campbell and Brown resolved then and there to buy the smallest and loveliest island left, Motukorea, soon to be known as Browns Island.
There, within sight of the Waitemata's bays, they would graze pigs and wait for the day that they knew could not be far away, when a new population would come to Tamaki Makau-Rau, living, trading, loving its sunshine and sea as Maori had done for centuries before.
Reference: Poenamo, by John Logan Campbell, Williams and Norgate,
London, 1881.