Bulgogi, meaning 'fire meat', is a tasty marinated thinly sliced beef.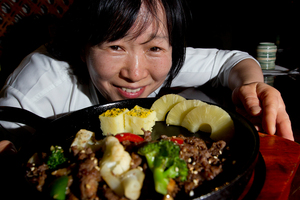 When it comes to preparing meat for barbecue no one does it better than the Koreans, believes chef Yeon Yi Go.
"When Koreans talk about barbecue, we mean tasty marinated thinly sliced meat we call bulgogi and not just chunks of beef that you put on the barbecue," she said through a translator.
Bulgogi, literally translated to mean "fire meat", is the top-selling dish at the restaurant where she works, Faro on Lorne St, which is arguably the most upmarket Korean restaurant in the city.
Ms Go, pictured, who moved to New Zealand from Seoul three years ago, speaks limited English and asks that restaurant manager Jay Kim help with the interview.
He says bulgogi refers to Korean-style marinated meat, often beef but can also consist of pork and chicken, that is grilled in traditional Korean grilling techniques using griddles that sit on braziers.
Back in the days of the Joseon Dynasty, the dish was prepared especially for the nobility class and the rich.
"Beef especially, is very expensive back in Korea and only the rich can afford, which is why beef is the most popular form of bulgogi," Mr Kim said.
He said bulgogi was one of Korea's national dishes and "the most well-known outside Korea", although many would still think of kimchi when you mention Korean food.
It was voted number 23 in CNN's poll of the "World's 50 most delicious foods".
"For someone who is new to Korean food, bulgogi would probably be a good dish to try first, and a good way to impress friends with your barbecue," Mr Kim said.
For people wanting to attempt this dish at home, Mr Kim recommends Ottogi-brand Korean barbecue sauce, which is available from S-Mart or any other Korean supermarket.
Thinly sliced sirloin or other prime cuts of beef can be bought from Korean butchers, or you can slice your own.
Marinate the meat with the sauce, which is a mixture of soya sauce, sugar, sesame oil, garlic, pepper and other ingredients, and leave for at least three hours "to enhance the flavour".
The meat can then be grilled on a barbecue or panfried with onions, carrots, mushrooms and any other vegetables of your choice.
Korean Bulgogi
Chef: Yeon Yi Go, Faro Korean Restaurant, Lorne St
Recommended marinate: Ottogi bulgogi marinate
Where to buy: S-Mart, Han Yang
What you need: Bulgogi-cut beef, bulgogi sauce, onions and carrots
To Cook:
*Marinate thinly sliced beef with bulgogi sauce
*Pan fry on flat pan or grill on barbecue
*Add sliced onions, carrots and vegetables
*Serve with steamed rice