Address:Imperial Lane, 44 Queen St, Auckland CBD
Phone: (09) 929 2702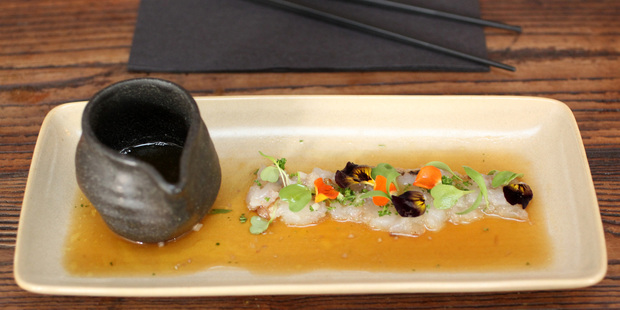 Once it was just Everybody's. Now it's Everybody's Izakaya, part of the rebranding at the Imperial Lane complex that has seen Roxy's disappear as a restaurant and a radical change of direction in the food at the more casual eatery.
Anyone who visited the place in its former incarnation won't notice a great deal of difference in the physical environment. There's only so much you can do, having decided to go for the raw heritage building look, and it is still very appealing. There has been a bit of a revamp of the seating but it still offers comfortable accommodation for groups of all sizes, from couples to big groups.
Our table in the upstairs area afforded a great view of the front of the kitchen and it was an added little pleasure to watch the disembodied hands working dexterously to plate the offerings as small pieces of art.
Chef Nick Honeyman says the inspiration is a term that describes sake shops where customers are lured to stay to eat as well as drink. We found the food at Izakaya is certainly calculated to do that.
After we had finished our initial selections we greedily ordered an extra couple, testimony to the quality of the first few, and there were plenty more that we would have liked to sample.
This is small plate territory, split basically into a raw and cooked section. From the raw we started with a crayfish ceviche, a dish that made a little go a long way but which demonstrated the virtues of the food here; fresh, subtle and memorable flavours. The taste of the cray was, perhaps, subdued by the citrus tang of the yazu dressing and the butter but the overall effect was delicious.
It's tempting but tedious to try to describe every detail of the rest of our initial five dishes but the spiced chicken mince in the baked eggplant deserves a reference. And I won't forget the spiced kaarage duck leg (think of a sophisticated KFC). Then there was the interesting onsen egg, a sort of sous-vide slow-cooked poached job, with shiitake mushrooms, not to mention the teriyaki rice porridge with steamed snapper ...
Five dishes were, probably, enough between two but I find it hard to resist gyoza and the pork versions in our additional orders were excellent. The crisp little apple and fennel salad which came with our slow-roasted salmon made a refreshing end to a meal that gave us pleasure. The choice of four desserts including a soy-milk custard with plum-wine jelly and yuzu sorbet looked interesting but we were defeated.
If you are not conversant with all the Japanese food influences, and I'm not, the staff, low-key and friendly, are well-versed in either explaining it or finding someone who can.
As an evening for a couple we enjoyed it but for our next visit, and there will be another one, I will go for a bigger group, probably with one of their set banquet menus, which seem to offer good value.


Our meal: $163.50 for seven dishes and four glasses of wine.
Wine list: A good list of sakes, well explained, and a wine list mostly of sound New Zealand provenance.
Verdict: Interesting food in a lively, casual but polished place, equally good for the intimate pair or the bigger crowd.