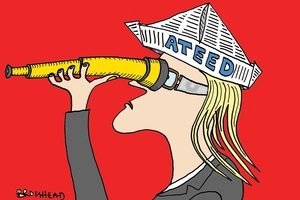 For a moment there, Auckland Council's promotions and economic growth agency, Ateed, had me going. The full-page advertisement "AKL The Show Never Stops" suggested the penny had finally dropped.
That their big new campaign to attract visitors - both local and international - to Auckland would highlight the city's role as the cultural capital of New Zealand and the Pacific.
Rachel Carroll, Ateed's general manager of destination and marketing, announced it was the start of an extensive campaign aimed at reinvigorating Auckland as a tourist destination.
"It's not meant to be just the literal shows that we have, although that is certainly a strong substantiator," she said. "It's very much about the full Auckland offer ... "
But the campaign-related website, AucklandNZ.com, has little reference to what she refers to as the "strong substantiator" .
The thriving performing arts side of Auckland's $1.31 billion arts and culture economy is all but forgotten.
Click on "Events", and the top of the page promotes not local Auckland shows, but "Finest International Imports", which morphs into an advertisement for an Australian touring production of Broadway musical Wicked.
I'm told Wicked is a great night out, and as Ateed is subsidising it as a "Tier A (economic) Major Event" the big plug is understandable. But it seems unbalanced that a ratepayer-funded organisation should at the same time relegate Auckland Theatre Company's parallel production of another Broadway musical hit, Chicago, to a tiny spot at the foot of the same page, way down below a plug for an "AUT Rookie Fashion Show" and an amateur production by the Waiuku Theatre Group.
Playing at the Civic, Wicked can handle far bigger crowds than ATC's Q Theatre production. However, thanks, in part at least, to Lucy Lawless' starring role, Chicago is so popular its season has been extended a month to December 21 and, despite no plugging from Ateed, has fans booking online from as far away as Invercargill, Rio de Janiero, London, Istanbul, Berlin and Albuquerque.
These are just the outside visitors Ateed's new campaign is supposed to be targeting. Yet there's hardly a mention of the local performing arts groups which are making Auckland the cultural centre of excellence that none of Ateed's staff of 276 seem aware exists.
Back at the website, the "what to do in Auckland" section offers the chance to "discover our culture". Top of the page is a link to a mock 17th century Maori pa and village in Wellsford, an hour's drive north of the city.
Then come links to various museums, a walking tour with Ngati Whatua, a Matakana winery, a couple of Gulf island visits, Howick Historical Village and only then, a plug for local theatre and music.
But only a few venues - and not the main two, the Town Hall and the Aotea Centre - and not the creative companies which make the shows.
A separate "arts, culture and heritage in Auckland" page is no better. Outsiders are told the city "is bursting with culture", but top of that list is the Botanic Gardens, then Auckland Museum and then, of all things, a Waitomo and Rotorua Geothermal Deluxe Day Tour and an InterCity bus excursion to Hobbiton.
If I was one of the New Zealanders whom Ateed is trying to lure up to the Big Smoke, I'm not sure a day trip to Matamata or Rotorua, or to a mock Maori village, is going to do it. Or for that matter, a vineyard or a beach.
They're hardly Auckland's points of difference in a country generously blessed with great beaches, playful dolphins and Maori villages.
If only Ateed had stuck to the slogan "The Show Never Stops". Despite Ms Carroll admitting the "literal shows" are a strong selling point, the campaign doesn't follow through.
In the heyday of Wellington's international arts festival, Aucklanders and other out-of-towners flocked to the capital. Across the Tasman, Sydney and Melbourne have long been arts destinations for visiting Kiwis. Now Auckland, with its flourishing local music and theatre scene, is ready to join this select group. Indeed, with regular visits from the NZ Symphony Orchestra, Auckland can go one better than the Australian capitals and claim, with the aid of the Auckland Philharmonia Orchestra, to have two full symphony orchestras.
This blossoming as a cultural capital is in part due to the far-sightedness of past and present local politicians providing a regular and guaranteed flow of funding. What a shame Ateed fails to join the team.