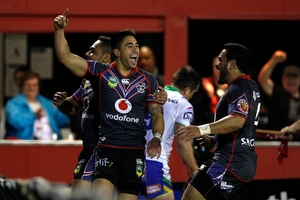 Eden Park will be at near capacity for the inaugural Auckland's NRL Nines tournament judging by current ticket sales, organisers predict.
The official draw for the tournament, which will involve all 16 NRL teams, will take place tomorrow morning.
Speaking at Eden Park this afternoon, event promoter David Higgins said two-day ticket sales for the February 15 and 16 tournament were sitting at around 25,000, generating more than $2 million in revenue.
Mr Higgins told the Herald that much was riding on the success of the first event, and all the parties involved were determined to ensure it ran smoothly.
That included addressing concerns by surrounding residents about the prospect of a booze-fuelled Wellington Sevens-style crowd.
"The beauty of nines is you'll have the forwards involved as well as the backs. If you go sevens, you'll get young blokes and backs, really. You go to nines, you get the big star forwards as well as the backs.''
Mr Higgins said star players were contractually guaranteed, and the even nature of the NRL would be reflected in the tournament.
"It will be meaningful, the competition will matter, which means people will be on the edge of their seats looking at what's going on the field, rather than at the bar.''
NRL general manager commercial and marketing Paul Kind, in Auckland ahead of tomorrow's draw, said a key part of the tournament's long-term success would be attracting Australian fans.
"I think that will come. There's an interest in Eden Park, it's a good time of year, it's a relatively cheap international fare...I think it's really appealing.''
The event is backed by up to $12 million of ratepayer money over the next five years.