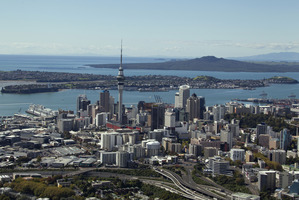 A sizeable section of Aucklanders appear to prefer more urban sprawl to higher buildings, despite Mayor Len Brown's goal of a compact city.
A Herald-DigiPoll survey of 500 people has found more of them deeming the proposed Unitary Plan rule-book unnecessary than those prepared to give unqualified support to more multi-storey buildings and smaller average section sizes.
Only 18.3 per cent believe the plan is the best way to deal with population growth, and will make Auckland a better place to live.
That compares with 28 per cent who said the plan was unnecessary, and that the Auckland Council should let the city grow outwards instead of allowing more high-rises.
But 23.4 per cent supported the plan in principle while believing some proposed changes were going too far.
And 28.6 per cent were undecided, saying they didn't know enough to comment.
Mr Brown remained unfazed by the findings yesterday, insisting Aucklanders understood the need for a compact city, but had the right to decide the best formula through submissions on the Unitary Plan which close on February 28.
Urban designer David Gibbs, director of Auckland architecture and master-planning firm Construkt, said the combination of strong and conditional support for the plan, totalling 41.7 per cent, was "not too bad over a very complex issue" but called on the council to do a better job of explaining what was at stake.
"What people are struggling to understand is we are going through quite a societal shift in which almost 50 per cent of our households are one or two-person households," he told the Weekend Herald.
"So we've got a need for 50 per cent of our housing to be for other than nuclear families."
Mr Gibbs said the type of accommodation suitable for small households, either apartments or terraced housing, were unlikely to be built on city outskirts, where an Australian study calculated the environmental and economic costs of providing new infrastructure and transport links were two to eight times higher than building inside urban limits.
"I think the people of Auckland aren't getting their minds out of their own suburban situation by thinking: where are our children going to live, or where in fact am I going to live if I become widowed or when the children move out."
But councillor Dick Quax, who opposes the Unitary Plan, said the poll provided more evidence that Mr Brown's claim that Aucklanders loved the idea of the compact city was "a great exaggeration".
"As it becomes more clear to people what the compact city actually means, they are deciding that really, they don't want that."
To find out how to make Unitary Plan submissions, visit www.aucklandcouncil.govt.nz/unitaryplan