Electoral office says issue minor but local election trio claim mistake will cost votes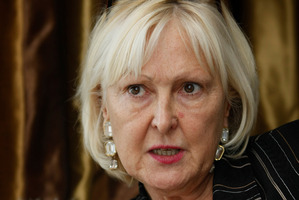 Well-known candidates Christine Rankin, Allison Roe and Brian Neeson have had their candidate profiles left out of a booklet that goes out with voting papers for the local body elections.
Last night, the Auckland electoral officer, Bruce Thomas, and NZ Post, which was responsible for printing and posting the booklets, said it was a minor incident.
But the candidates themselves were not impressed, with Mrs Rankin - best known as the former Work and Income boss - calling it an appalling situation that would cost her votes.
Mr Neeson said the electoral office and NZ Post might say it was a minor issue, but it was an important issue for the three candidates.
"To be left out is a sin, an absolute crime. I cannot believe the incompetence," he said.
Former New York and Boston marathon winner Allison Roe could not be reached for comment, but Mrs Rankin said she was aware Ms Roe had taken legal advice.
Mrs Rankin said the missing candidate profiles would be especially costly for herself, Ms Roe and Mr Neeson as candidates for the Waitemata District Health Board.
Mr Thomas said he was aware of only a small number of faulty candidate booklets. Just 12 people had contacted the office and had been sent new booklets. A review of existing stock found no faulty booklets.
An NZ Post spokesman, John Tulloch, said it was investigating, but believed it was a small issue.
The electoral office has also admitted giving Papakura voter Bob Stevens incorrect information about candidates standing for multiple local boards.
Mr Stevens said he rang the office to ask what would be the outcome if he voted for the Conservative Party candidate, Andrew Craig, on the Papakura Local Board, who is also standing for the Orakei and Howick Local Boards. He said he was told if Mr Craig was elected to more than one board he would be required to pick one and give up any others.
Mr Stevens said he changed to another candidate but after voting discovered local board candidates could sit on more than one board.
Mr Thomas said staff were under training when Mr Stevens called. A supervisor called him back and he was given the correct information.