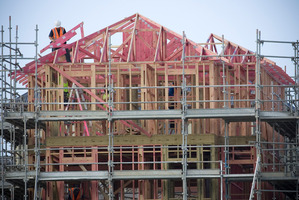 The Auckland Council has unanimously backed the Housing Accord with the Government to fast track the construction of 39,000 new homes over three years.
The agreement notifies or effectively puts Auckland's proposed new Unitary Plan in place, allowing new housing developments to gain consents more quickly.
"We can now get on with the actions agreed in the Housing Accord - unlocking new land for development and fast-tracking the build of more affordable homes in Auckland," Auckland Mayor Len Brown said.
Today's decision by the council follows the passing of the Government's Housing Accords and Special Housing Areas Act last week. The Act allows for the establishment of special housing areas with a streamlined consent process.
"The next step will be to identify the first batch of Special Housing Areas that will contribute to the 39,000 extra homes provided for under the Accord over the next three years," Housing Minister Nick Smith said.
"My ambition is to provide sufficient Special Housing Areas by Christmas to accommodate an additional 5000 homes."