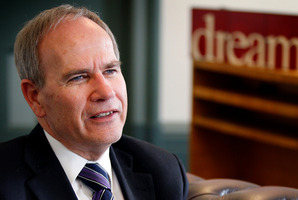 Much has been achieved in the first three years but there is considerable work still to do to bring Auckland together, strengthen our communities and make this the world's most liveable city.
It is important that the region is led by a mayor who knows what matters to Aucklanders. We face big challenges - high population growth, integrating the transport system, providing affordable housing, and getting the Auckland economy moving.
Getting started on the Central Rail Link, so we can tackle traffic congestion, and sorting out the Unitary Plan are key priorities.
Ratepayers want a fiscally responsible mayor. In the first three years, while managing the huge shift to a single rating system, we have successively cut rate increases. This year we are limiting average rate rises to 2.9 per cent. If elected to a second term, I will continue to deliver average rate rises of around or less than the inflation rate, aiming to get below 2.5 per cent.
Much of what Auckland needs will only be achieved off the back of a strong economy and jobs. We need a more innovative economy and more links to our major trading partners in the Asia-Pacific region. Tourism and youth employment will be major focuses.
We can also deliver on environmental and infrastructure projects which will help to make Auckland the world's most liveable city - reducing carbon emissions, improving our harbours and waterfronts, and developing our parks.
I also want to extend free entry to swimming pools to all in the community. Keeping our community healthy, active and safe is important.
My first term has been dominated by building the foundations for Auckland to move forward with unity on a number of significant projects. If elected to a second term, I will continue to focus on the issues that matter most to Aucklanders.