Chinese composer Tan Dun is in town next week to conduct the NZSO playing the scores to the movie trilogy that includes Crouching Tiger, Hidden Dragon. He talks to William Dart about his music and his special connections with New Zealand.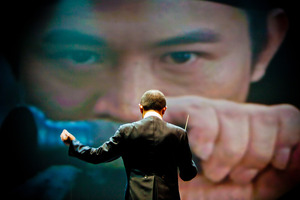 Next week, Auckland and Wellington will join other cities of the world from New York to Kracow when they experience Chinese composer Tan Dun conducting his spectacular Martial Arts Trilogy.
On Friday, under the starry roof of The Civic, the New Zealand Symphony Orchestra presents Tan's triptych of concertos, drawn from his film scores for Crouching Tiger, Hidden Dragon (2000), Hero (2002) and The Banquet (2006)
Though I can't imagine this gentle man defying gravity, sword in hand, as does Zhang Ziyi, the glamorous heroine of these films, he does feel his "whole existence these days, going back and forth between East and West, is just like tai chi, just like martial arts".
Tan Dun is one of the globe's most feted composers. Last November, the 55-year-old was deemed the "Shostakovich of China" when he received the prestigious Shostakovich Award in Moscow; further back, the great John Cage claimed Tan's music was indispensable "as the East and the West come together as our one home".
Tan can also turn an elegant phrase. The whole of history, he says, "seems like a piece of music that has no beginning and no ending".
Yet, for all the philosophical whimsy, he is also a man of the world and practical with it. "I love sport, so I wrote music for the Olympics. I love films, so I wrote film scores and, no matter how things change, I'll always love the movies. Composing for them is such fun. It not only connects to my life passion, but combines my symphony passion, my opera passion and even a sort of jazz passion."
He was introduced to traditional Hong Kong and Taiwanese kung fu films in the 1970s. Tan was not so taken with what he describes as their "ping, pang, ping" soundtracks and, years later, when director Ang Lee approached him to provide the music for Crouching Tiger, Hidden Dragon, "I was told we should find a different sound", Tan explains. "Ang Lee said we should search more deeply for a healing spirituality."
Looking back over this and the two subsequent films of the trilogy, he points out how each director took a different approach. Though Ang Lee stressed "a dream point of view", two years later Zhang Yimou's Hero "was much more about the love of the land and the earth spirit".
Then, in 2006, Feng Xiaogang, director of The Banquet, "was a bit of a Chinese Woody Allen and much more interested in people's lives, making it into a story of revenge, a sort of Lady Hamlet".
Tan points out how, for each film, Zhang Ziyi's character is caught with a different solo instrument. On Friday we will hear Chinese violinist Ryu Goto and pianist Yingdi Sun in two of the concertos. However, for the central piece of the evening, based on Crouching Tiger, Yo-Yo Ma's solo cello from the original soundtrack has been replaced by the erhu, an ancient Chinese violin.
"Of all instruments this is the closest to the human voice," Tan says. "It's like a soprano is singing all the time. And Tan Wei, who will be playing it, is one of the finest musicians in China."
As for conducting this multi-media event, Tan enjoys his podium duties. "Although you have to concentrate all the time, especially making sure the screened film and the music sound together. It's almost like conducting live opera."
Inevitably, Tan's remark takes me back to 2006 when Wellington's International Arts Festival presented his extraordinary opera, Tea: A Mirror of Soul. When we met up seven years ago, the composer was exclaiming over "my hero Monteverdi" and the "haunting, yearning quality of his endless, floating song".
Back then, too, he spoke movingly of his extraordinary survival through China's Cultural Revolution: "Thirty years ago I was planting rice in the fields and now I conduct the Boston Symphony."
You can hear this background in his 1994 Ghost Opera, which pipa virtuosa Wu Man and the Kronos Quartet perform next month in the Auckland Arts Festival.
Admitting that "all music is theatre, theatre without words," Tan points out how Ghost Opera, with its blend of Bach and the sounds of the Chinese countryside, is "very much related to the whole idea of the mountain spirit. It comes from a culture that, like Buddhism, treats everything as having life, creating a spirituality that is so beautiful and musical, yet not necessarily religious".
His rather reflective observation that "nature has always been the most important thing to me as a composer" leads to an unexpected outburst.
"Today I am so worried about the world. About the explosion of the world. The weather. The air. After all, I'm Chinese. China is so polluted and I'm so glad to come to New Zealand and breathe the best air in the world."
New Zealand will always have a special place in his heart, he stresses, since he first visited us in 1988, taking up a residency at Victoria University. Cherished connections include one with composer Jack Body, "our teacher and model" and "a modern-day Bela Bartok" for the way Body searched out endangered ethnic music deep in the Chinese hinterland.
And Tan's Eight Colours, magnificently recorded by the New Zealand String Quartet just last year, was begun during his New Zealand stay, with the NZSQ of the time in mind. "Eight Colours is my bridge to one of my musical homes. That work, written in New Zealand, was such a turning point for my career."

Performance
What: New Zealand Symphony Orchestra, Martial Arts Trilogy
Where and when: The Civic, Friday at 7.30pm
What: Kronos Quartet with Wu Man, including Ghost Opera by Tan Dun, as part of the Auckland Arts Festival
Where and when: The Civic, March 9 at 8pm
On disc: New Zealand String Quartet, Asian Music for String Quartet (Naxos)