Acclaimed British sculptor Antony Gormley has created an adaptable set for festival dance work Babel. Stephen Jewell reports.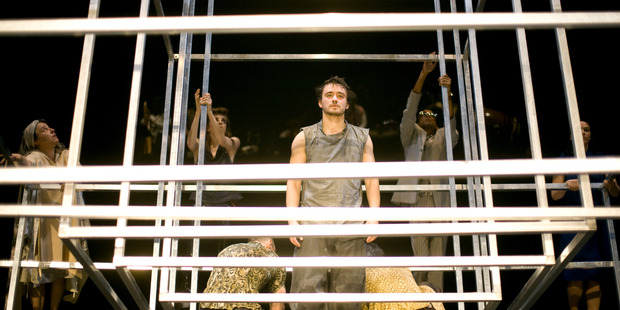 With its huge metal gates and barbed-wire fences to keep out over-enthusiastic merrymakers from the neighbouring nightclub, I almost feel like I'm visiting the secret base of a James Bond villain when I enter Antony Gormley's vast King's Cross headquarters in London.
Walking through the yard, I'm greeted by the familiar sight of one of his stark cast-iron figures that have famously cropped up everywhere from Liverpool's Crosby Beach to London's South Bank Centre.
Renowned for his provocative public sculptures, the 62-year-old has won over sceptical hearts with the majestic Angel of the North in Gateshead and courted controversy with 2009's One & Other, which invited 2400 members of the public to become living art installations on Trafalgar Square's usually vacant Fourth Plinth.
But he has also dabbled in more intimate environments, designing sets for several dance productions, including Babel, which is one of the highlights of the Auckland Arts Festival in March.
"I've been invited to work with opera and theatre in the past, but they're both less interesting to me than dance," he says. "I have a very high regard for the art of dance, as it's the purest form of art there is. It's like life using its own primary vehicle - the body - to express itself."
First staged in 2010, Babel marks Gormley's third collaboration with choreographer Sidi Larbi Cherkaoui, from Belgian dance troupe Eastman VZW, after 2005's Zero Degrees and 2008's Sutra.
"I just find Larbi remarkably open-minded and one of the most vital people I've ever met," he says. "He's extremely instinctive and open to new experience. But it isn't as if he wants to possess it; he wants it to inspire him to extend his own experience of being in the body.
"When you see him in relation to kung fu - as we were with Sutra - he wanted to absorb not just all the moves but the whole ethos of what life was like in the monasteries, and their spiritual and intellectual focus."
Taking its name from the biblical Tower of Babel, the show is an exploration of the nature of words, performed by a group of multi-cultural, bi-lingual dancers. "Larbi wasn't simply interested in taking it as a metaphor for human dystopia, which would have been an easy way out of making a piece about dysfunction," says Gormley.
"He took the subject seriously and thought about how language works, not just from a neurological point of view, but also from an absolutely contemporary political standpoint, which is that language itself has become a territory. If you control that - particularly English as the dominant international language - you have an immediate advantage over others."
Although he wasn't as deeply involved in its early development as he was with Zero Degrees and Sutra, Babel is perhaps Gormley's most acclaimed theatrical venture to date - he won the Outstanding Achievement in Dance prize for his set design at the 2011 Laurence Olivier Awards.
Composed of five 3D frames, it had to fit London's prestigious Sadler's Wells and will be adapted for its season at the Civic in Auckland. "It has to be adaptable and I solved that by making it very minimal and rudimentary," he says.
"The critical thing was, 'how do these frames relate to each other?' So we had to find something that would work structurally, in that they had to fit inside each other. With all the productions I've done with Larbi, there's been a lot of playing around with the dancers and the objects and maybe also some modification of the objects as a result. That was true with Babel as well.
"There were certain structural weaknesses that needed to be addressed because of the amount of stress put upon the frames - the fact they are swung around on and climbed on - so they have to be practical objects that can be transported and disassembled and reassembled."
Along with the performers' individual interactions with his work, Gormley enjoys the various reactions of audiences. "The sine qua non - the essential condition - of all art, but particularly dance, is that you have to be there with the dancers," he says. "It's like if you're watching a football match, your sympathetic synapses are activated as you watch the striker as he strikes, or if somebody on the wing is really going for it. It's like you're there with them.
"With Babel ... [Larbi] keeps you on the edge of your seat because of the high level of risk he's prepared to take."

Auckland Arts Festival
What: Babel (words)
Where and when: Civic Theatre, March 21-23