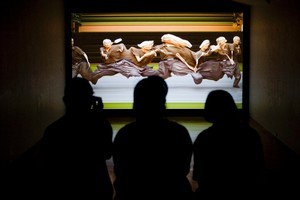 A feature of the Auckland Arts Festival has been the number of exhibitions that involve television screens - moving images are everywhere. St Paul St Gallery at AUT is host to the work of two Japanese artists, Ko Nakajima and Kentaro Taki. The works occupy two of the spacious galleries.
In Gallery 1 the video work supports and supplements the installations, while in Gallery 2 they are independent works of art.
Scattered about the floor in Gallery 1 are freestanding structures made of slender sticks which are ingeniously self-supporting. In the centre of the floor is a larger, dense mass of leafy materials throughout which television screens are dotted. The screens show many aspects of life from abstract patterns to science. Alongside this large world is a contrasting miniature bonsai garden complete with a tinkling fountain. This installation is by Nakajima with sound contributed by Aucklander Phil Dadson.
Taki contributes two other elements: a corner filled with e-waste - the wrecked detritus of the electronic world and an HD video that concentrates on the domesticity of books and shelves called Living in the Box.
The whole is a worldview ranging from uncertainties in nature through the cultivated artificiality of a garden to discarded technology and waste. Conservation themes and threats to the natural order are implied rather than stated and the whole installation comes over as quietly innovative.
The works in Gallery 2 include a touching autobiographical ongoing meditation on life and death. They include the funeral ritual of Nakajima's mother, the careful collection of the bones of the dead after cremation and a decidedly unsentimental documentation of the birth and development of his daughter. The themes are continued in a series of lithographs and drawings notable for unusually transparent, inky colour that exactly suit the images.
Taki's contribution includes using a car as a drawing tool in a video sequence where the car is extended by animation to make a written character. The work is called Carligraphy.
The whole exhibition is an elaborate example of how contemporary art uses a variety of media to make its point, mostly a critique of the very culture that makes such expression possible. It has involved local dancers and musicians. It is gentle work. The only extreme is a poem by Yutaka Kusaba, inspired by Nakajima, expressing the appalling hope that Rangitoto will erupt again.
The careful examination of the patterns of natural forms can be visually astonishing. MIC Toi Rerehiko has an unassuming entrance on Karangahape Rd but is host to a compelling show of video projection and lightboxes and sound by the Australian collaboration of Josephine Starrs and Leon Cmielewski. All the works are on the floor and incorporate the modern experience, only possible since the invention of aircraft, of looking directly down at Earth from a great height.
The most visually striking piece is assembled to show Mt Taranaki from above and then gently descends and moves around the mountain. The line between the bush and the pastureland is amazingly sharp on the seaward side. On the landward side the effect of erosion on the steep hills is marked and the streams make extraordinary patterns. Suddenly the bush breaks loose in fragments and imposes itself on the farmland as words to make an epigram in Maori.
Other works use pixel manipulation to embed texts into river landscapes in a way that matches the topographical patterns. A vivid lightbox work that makes use of mineral colour and another of the Murray River as it enters the sea are equally spectacular.
The exhibition is called Incompatible Elements. There is a conservation message implied in this engrossing show but primarily it brings to the viewer a close experience of the complexity of the natural environment.
Artspace across the road hosts video documentation of work by Jim Allen, who is recapitulating performance art he staged as long ago as 1974.
The most interesting piece is in the long gallery where the artist places objects for meditation in a frame he constructs. The use of a bright yellow line makes an effective formal link through the work. The recent piece of masked actors making and losing contact only through detection devices makes its point easily, then meanders on repetitively.
Black and white video of students plastering themselves with mud and soap makes dull viewing until oneof the participants slips and fallsover.
Someone falling over is also the only excitement in the work of Ruth Proctor, one of a trio of artists at Starkwhite. Her work consists of three screens showing a skating rink in Turin during three times in the day. They are atmospheric: lights blink and traffic moves beyond the rink. A solitary person arrives and climbs into the rink three times, skates and leaves. It conveys cold, loneliness and isolation in a city.
The videos by Laresa Kosloff are even more enigmatic and difficult. In Red and White Run figures clad in Santa suits run under white sculptures in a city square in Singapore. Another is a video collage of shots of street performers dressed as the Statue of Liberty standing around in piazzas in Rome. Both are clever but rather inconsequential.
The show is enlivened by the one non-video work, a witty sculpture by Alicia Frankovich where a fragile crate of eggs is balanced on top of a slender, tall, rigid steel frame.
The most completely coherent and satisfying work of video in the festival is Stillness in Movement by Daniel Crookes at Two Rooms. It conveys no message at all but is a continually changing visual delight. An elderly exponent of t'ai chi moves slowly and gracefully through the movements of his exercise. His figure and the garden where he exercises is gradually elongated and multiplied into waving and gesturing shapes that still retain the basic image in some form. In the background the garden elongates into abstract lines but still keeps the colour harmonies of green and brown which integrate the whole work.
At the end the shapes break up and dissolve and stasis is restored. It is the only work in this mass of festival non-narrative video material that demands immediate re-viewing.
At the galleries
What: Video Life by Ko Nakajima and Kentaro Taki
Where and when: AUT, St Paul Gallery, 40 St Paul St, to March 25
TJ says: In installations that use natural materials alongside modern technology, two Japanese artists critically explore aspects of contemporary life.
What: Incompatible Elements by Josephine Starrs and Leon Cmielewski
Where and when: MIC Toi Rerehiko, 321 Karangahape Rd, to April 2
TJ says: A remarkable installation of videos and lightboxes that record natural patterns and add comment that seems part of the landscape. An aerial view of Mt Taranaki is particularly stunning.
What: Jim Allen: Contact 2011
Where and when: Artspace, 300 Karangahape Rd, to April 21
TJ says: Veteran performance and installation artist recapitulates former work - the insistent video documentation is on show from Tuesday to Saturday.
What: Alicia Frankovich, Laresa Kosloff, Ruth Proctor
Where and when: Starkwhite, 500 Karangahape Rd, to March 20
TJ says: Two overseas artists show enigmatic video loops but are trumped by a witty, egg-balancing structure by curator Alicia Frankovich.
What: Stillness in Movement by Daniel Crooks
Where and when: Two Rooms, 16 Putiki St, Newton, to April 9
TJ says: A fascinating deconstruction of an elderly t'ai chi exponent and his surroundings into wave patterns of movement and subdued colour harmonies.Mt Taranaki by Josephine Starrs and Leon Cmielewski.
Check out your local galleries