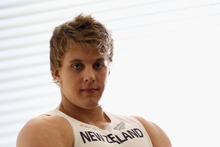 The fact that Jacko Gill was not present at his own announcement indicated that the 17-year-old leviathan knew he was going to be responding to inquiries with answers not everybody would understand.
In a new twist on athletes taking their cases to court in a bid to gain Olympic selection, Gill has wriggled out of the opportunity to represent his country at London. There'll be some thinking New Zealand has spawned its own Wacko Jacko.
He had not been officially named in the squad, however the men's shot put spot was never going to anybody else - but he needed to know now. Does that imply a 17-year-old acting like a typical teen when things don't go their way?
"I don't think that at all," said Scott Goodman, Athletics NZ high performance director and the man yesterday charged with doing Gill's public bidding. "He's very clever in how he plans and prepares for things. In his own mind, the logic of setting the world record and retaining his junior world championships is actually a better goal than going to London to have that experience, because that's what it would have been about."
That's what is so hard to wrap your head around, that Gill could put more weight on a junior title and possible age-group record, than everything that goes with the five-ringed circus.
The opening ceremony and the march-past; the thrill of hearing your name called; the knowledge gained by competing against the best of the best; the buzz of competing in front of more people than he's seen in any one place before. Gill has weighed all this up and declared it an inferior experience to winning a world junior title.
He's done everything right in his short career so far, so he deserves the benefit of doubt - no matter how big that doubt might seem.
By Dylan Cleaver

Email

Dylan