Victim says she will never forgive Hello Sailor star for hurting her and her family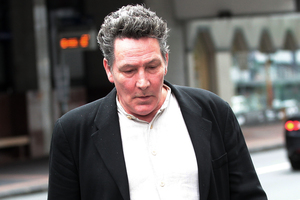 Hello Sailor frontman Graham Brazier has admitted to twice assaulting his former fiancee.
The veteran Kiwi rock musician pleaded guilty on Friday in the Auckland District Court to two charges of assault.
Brazier, 60, had previously denied attacking ex-girlfriend Toni Aitcheson at his address in Auckland in August 2009, and again in July 2010.
On Friday, however, he admitted to one charge of assaulting a female and another of common assault. He will be sentenced on November 5.
Wearing a black jacket and open-necked white shirt, the singer stood quietly in the dock while lawyer Adam Couchman said his client had undergone behavioural and alcohol counselling sessions, and that "progress was being made".
The police summary of facts said Brazier grabbed Aitcheson and threw her across the room into a pile of boxes. On a second occasion, he grabbed her around the throat and threw her backwards on to a bed before barricading himself in another room.
Court papers revealed Aitcheson suffered a graze over her spine and minor swelling in the first assault. After the second incident she had bruising around her neck and obtained a restraining order against Brazier.
Mother-of-three Aitcheson, 45, met the vocalist in 2007 when he was a guest judge on the TV2 talent contest Pop's Ultimate Star. A year later they became a couple.
Brazier had given her an engagement ring and she thought they had a bright future together, she told the Herald on Sunday. The relationship lasted two years but she moved to Hawke's Bay after the second assault. "I feel vindicated," Aitcheson, who was not in court, said. "I decided to go through with this for women everywhere, to say aloud 'we will not tolerate abuse'.
"I will never forgive him for the injuries he inflicted upon me and the affect all this has had on my friends and family."
Brazier first hit the charts with Hello Sailor in the 1970s and turned down an offer to join The Doors in 1978 after frontman Jim Morrison died. He now lives above a shop on Dominion Rd.