Call for law change after men on bail for assault accused of violent attack.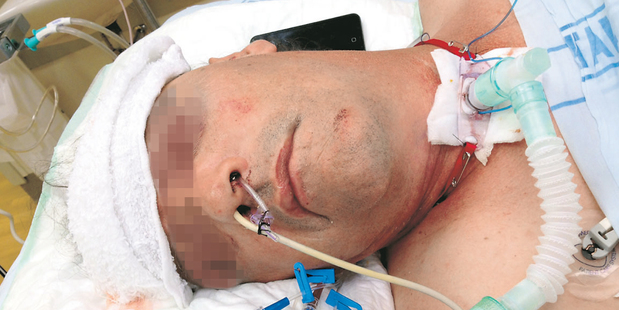 Mike's injuries were more like those of a car crash victim, doctors said. Photo / Supplied
A man had every bone in his face broken, spent three weeks in a coma and suffered serious brain damage after he was assaulted - allegedly by men who were on bail and facing charges for violent offending.
His family were horrified to learn of the charges the men were facing.
They are now calling for a drastic change to bail laws to prevent others going through the same ordeal and say it is a matter of time until someone is killed in a similar situation.
His wife and family spoke to the Herald on the condition that they, and Mike, the victim, were not identified to protect their safety. Mike is recovering slowly at a specialist brain injury rehab unit and has not been told the full details of the attack.
His wife has struggled to tell their daughter, 4, why her father couldn't come home, and why he would not wake up for almost a month.
Mike was in a car with a friend in Pt Chevalier on November 13 before he was allegedly set upon by three men.
While they waited outside a shop for another friend, a bottle was allegedly thrown at the car by one of a group of men nearby.
One of the group allegedly walked up to the car and punched the driver through the open window, breaking his nose. Mike allegedly got out to help his friend and was assaulted.
"Mike did nothing to them. He was in the wrong place at the wrong time," his wife said.
Doctors later said the severity of Mike's head injuries was usually only seen in car-crash victims - they had never seen it in an assault before.
Three men were arrested soon after and charged with causing grievous bodily harm with intent. The Herald has chosen not to name them for legal reasons.
Two of the men were already on bail and jointly facing charges, including assault with intent to injure and possession of a knife. After the alleged assault on Mike, one was remanded in custody and the other re-bailed.
The third man was also remanded in custody but bailed after a successful High Court appeal. He was arrested again in January for failing to appear in court and then granted bail again until his next appearance.
"When I found out they were already on bail I just couldn't believe it. It was devastating. What do you have to do to be kept inside? Do you have to kill someone?" said Mike's wife.
"People can beat someone to within an inch of their life and they're released again. It's ridiculous. Where's the deterrent?" said a family friend.
The family believed that anyone charged with a violent offence should be kept in custody until their trial to prevent any further attacks.
"Offenders seem to have more rights than us," Mike's wife said. "If they hadn't been granted bail in the first place we'd be living a normal life, we'd have had a normal Christmas."
His sister added: "I think judges need to start looking at things through a victim's lens. My worry is that this will happen to somebody else now because these people have been let out on bail again. Is this going to happen to another family?"
Mike was in a coma for three weeks with doctors unable to wake him. When he finally came around he did not recognise any of his family.
Three months later his memory is slowly returning, he is talking slowly and can walk a few steps. He knows he has a head injury and was attacked but his wife is limiting what she tells him so as not to distress him and take focus away from his recovery.
"When he came out of the coma I expected him to wake up and everything would be normal. Even though the doctors told me he had a severe brain injury, I kept thinking 'you don't know Mike like I know Mike, he's going to come out of his coma and come home and we're going to pick up where we left off," his wife said.
"But it suddenly dawned on me that that's not going to happen. These guys have stolen his life from him ... it's been three months of pure hell."
She said the police had been "very good" in keeping the family up to date.
"It must be so frustrating for the police to keep locking people up then having to go and find them and do it again when they reoffend. We understand their hands are tied."