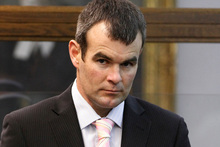 As the high-profile murder trial of Ewen Macdonald enters its fourth week, crucial evidence about dive- boot imprints found at the scene will finally be heard.
Ewen Macdonald, 32, is accused of gunning down his brother-in-law, Scott Guy, 31, in the early morning darkness of July 8, 2010, after growing tensions over the family farm they co-managed.
Macdonald has denied murdering Guy.
Distinctive ripple tread prints were left at the scene; prints, the Crown says, left by Macdonald.
Macdonald once owned such dive boots but they have never been found.
The court has heard from Macdonald's wife, Anna, who recalled throwing out one of the boots, which was used to hide the spare key, when they moved house in 2008.
But on Friday she said she was not 100 per cent sure whether she threw it out then, though she could not recall ever seeing the boots at their new house on Aorangi Rd.
The high-profile trial of the father of four started on June 5, his 32nd birthday, at the High Court in Wellington.
It is set down for six weeks, but prosecution evidence is likely to wrap up this week.
- APNZ
By Hana Garrett-Walker

Email

Hana