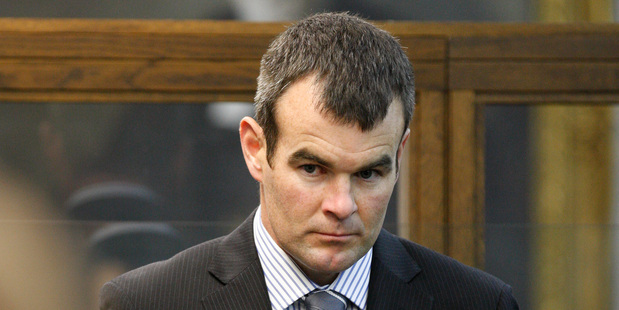 Ewen Macdonald in the dock yesterday on the 11th day of his High Court trial on a charge of murdering his brother-in-law, Scott Guy. Photo / Mark Mitchell
Ewen Macdonald knew things were looking bad. After a four-hour grilling, he asked police: "I guess I won't be going home tonight, will I?"
It was the day he was charged with the murder of his brother-in-law, Scott Guy, and he knew what the detectives were thinking.
"I can see the finger points at me," he told them.
The realisation came during a dramatic interview during which he had been forced to admit he had been involved in acts of vandalism against Scott Guy and his wife, Kylee, and the thefts of stags from a neighbour's farm.
The conclusion of the police interview with Macdonald was yesterday played to the jury at the High Court at Wellington.
His admission came only when it became clear that his questioners knew the truth. Minutes earlier, he repeatedly denied any involvement.
Macdonald and friend Callum Boe "torched" an old house on a trailer on the Guy property, lighting the fire with diesel, and attacked Scott and Kylee's new home with a splitting axe, before covering the walls with obscenities.
They later threw the paint brush they used over the Huka Falls.
It was when Detective Laurie Howell told him police had spoken to Boe that the denials ended.
Mr Howell asked him what he thought Boe told them and Macdonald believed it was that he didn't have anything to do with it.
He agreed with Mr Howell that Boe was "straight up" and "trustworthy" - and it was then that the detective showed his hand.
He asked Macdonald if he would like to change his version because, "that's not what he said to us".
"What do you think he said? ... That he had nothing to do with it? Well, he didn't say that."
After a pause, Macdonald replied that Boe would have said "he was involved in doing it all", and when Mr Howell asked who he did it with, he said: "Me".
Despite the admission, Macdonald insisted he was not guilty of murder, saying he "wouldn't take someone's life, I'm not that extreme".
"It looks obvious, these leading up to events, but I'm not that psycho."
Earlier, he agreed with the police view that if they found the person who did the arson and damage they would probably have found the killer.
"I guess it makes sense," he said. "It was all aimed at Scott and Kylee."
Mr Howell said it appeared he was running a "campaign of intimidation" against Scott and Kylee Guy, and he believed it "ended with you killing Scott with a shotgun that morning, so explain that".
Macdonald said he had nothing to explain because he "wasn't the murderer".
Asked about the theft of stags from a neighbouring farm, he said it was about completing a "challenge".
And he thought the arson would be "funny" and not about "vengeance, revenge" on Scott and Kylee Guy.
But the damage to their new home was a lot more personal.
"I don't know if it was about the new house ... It wasn't a fair partnership. I slogged my guts out, worked my arse off. I was holding a bit of a grudge and was disappointed it wasn't a fair partnership."
Mr Howell told Macdonald that he did not have an alibi for the murder, didn't like the victim, knew the area well, knew what security there was and had access to firearms.
Macdonald said Mr Guy's death was of no benefit to him.
"I would sooner have Scott working with me. It's been a pain in the arse [without him] and I've worked harder than before."
He said he was in a bad situation, and another officer, Detective Glen Jackson, said it couldn't be any worse, prompting Macdonald to say, "not having the murder put on me would be better".
The officers urged him to tell them the truth, but he told them "admitting to a murder I didn't commit" would be no help at all.
"I've told you the truth, I've come clean about the other stuff."
Near the end of the interview Macdonald said he guessed he wasn't going home that night.
"I doubt it," Mr Howell replied.