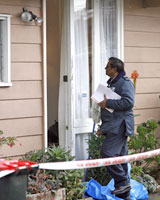 A homicide inquiry has started after the death of a 16-month-old baby boy who allegedly received serious head injuries while being cared for by a relative.
Sachin Dhani was taken to hospital on Tuesday night and died at 1.40pm yesterday after his life-support system was turned off.
His parents were with him when he died, but police asked the relatives who had been babysitting him to stay away from the hospital.
Twenty-four police officers have been assigned to the inquiry.
It is understood police discovered the toddler's injuries on Tuesday night after pulling over a car because it was being driven erratically.
Sachin was in the vehicle, and the relatives with him said they were trying to get him to hospital.
He was taken to Ascot Hospital, then transferred to the Starship and hooked up to a life-support machine.
Police started investigating later that night after a doctor said Sachin's injuries did not fit with the description given by his relatives of what had happened to him.
Detective Senior Sergeant Scott Beard said relatives in Waipuna Rd, Mt Wellington, were babysitting the toddler when he was injured.
He was from Remuera and was the youngest of three siblings.
Mr Beard said the Waipuna Rd home was cordoned off on Tuesday night as soon as the extent of the injuries became clear.
"Right from the beginning there were concerns at the extent of the injuries and that they were non-accidental injuries, and so right from day one we treated it as a homicide investigation because the baby was on life support."
No arrests had been made last night.
Police were still to speak at length with the family.
"We haven't really had a chance to speak to them properly because they have been at the bedside, but in the dealings we have had, they have been co-operative," Mr Beard said.
The Mt Wellington home remained cordoned off yesterday while forensic experts checked it.
Waipuna Rd residents the Herald spoke to said they did not know what had happened.
Everything had appeared normal on Tuesday evening, but in the early hours of the morning police cars arrived.
One neighbour said the young couple who lived in the house had not been back since Tuesday night.
The couple, who had been in the small weatherboard home for about a month, were in their late 20s to early 30s and had twin boys aged about 4.
When they moved in the twins' mother had told a neighbour she was also looking after her sister's baby, as her sister was unwell.
It is understood the twins are being looked after by other relatives.
The house is expected to remain cordoned off for most of today.
An autopsy on Sachin's body is to be carried out this morning.
By Elizabeth Binning

Email

Elizabeth