Tradesmen's vehicles not allowed to park on footpath or berm.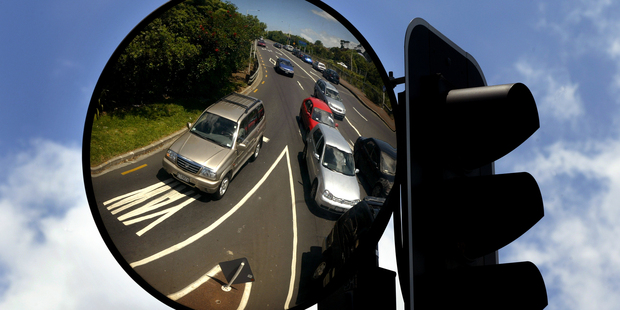 My husband and I are involved in a disagreement which we hope you can solve for us. Every morning going to work we turn right onto St Lukes Rd at Motat and every morning the traffic coming off the motorway which is turning left, and ourselves seem to meet. There have been quite a few near misses just lately and I think as we are going straight ahead we have right of way and my better half says they are turning left so they have right of way. Which of us is correct? If I ever get involved in an accident at this site I would like to know if I am in the right or not. Raywyn McCall, Auckland.
I went out to have a look at this problem. Traffic exiting the motorway at St Lukes and wishing to turn left on to St Lukes Rd has a short slip road from the off-ramp to St Lukes Rd. Once on St Lukes Rd, for a short distance there are two marked lanes. Thus straight-ahead traffic and left-turning traffic can both access St Lukes Rd, but then must "merge like a zip" when the two lanes become one.
From observation, drivers on the slip road all looked over their right shoulders to make sure the way was clear before turning left. As is often the case, good driving and courtesy should solve the problem.
Is it legal for tradesmen to park their vehicle across or along footpaths in front of the houses where they're working? I see it all the time and builders are the worst, they leave several vehicles blocking the footpath when they're working on a house. I often have to step out on to the street to get by. If it's not legal, what can I do about it?
What about people parking their cars on the grass strip between the sidewalk and the street? I live near a school and every afternoon, I find a car parked on the grass in front of my house. Is this allowed and what can I do other than telling them off or fencing off the area when it's wet so they don't ruin the grass.
Maria Tapper, Remuera.
With a nod to yesterday's Sideswipe column, it seems this problem is not confined to your area.
A spokesman for Auckland Transport has kindly provided the following information.
Parking on the berm or footpath is illegal under Auckland Transport Traffic Bylaw 2012, Item 22.
The bylaw reads:
(1) A person must not stop, stand or park a motor vehicle in urban traffic areas on that part of the road which is laid out as a cultivated area, including a grass plot, a flower bed or shrubbery.
(2) A person may stop, stand or park a motor vehicle in contravention of this clause if-
(a) that part of the road is designed and constructed to accommodate a parked vehicle; or
(b) Auckland Transport has given written permission to stop, stand or park a vehicle in that part of the road.
If you see a vehicle contravening this bylaw, you should ring Auckland Transport (09) 355 3553 and supply the operator with the location and the vehicle registration number.