Bali is one of the world's most famous surfing spots. Bevan Hurley finds out why, starting at Kuta Beach.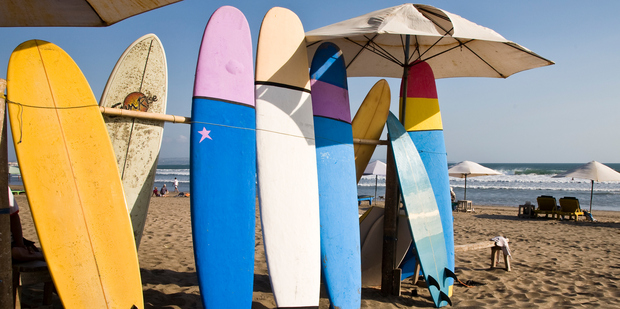 Kuta is world-renowned for surfing. Photo / Thinkstock
They say nothing beats the thrill of catching your first wave. The adrenaline surge as you balance on a piece of fibreglass while the ocean propels you towards the shore is a serious thrill.
And you couldn't ask for a better place to experience this sensation than on the beautifully formed waves in bathtub-warm water at Kuta Beach, the world-famous surf spot on Bali's south coast.
The clutter of bodies and umbrellas along the mile-long stretch of white sand was already building up by the time we got to the beach at 8am.
Our Air New Zealand minder, Wayne Mitcham, had organised lessons and everyone in our group of Bali "brocationers" was outfitted with a wetsuit shirt and a MiniMal, the longboard favoured by beginners. We lined up on the beach ready for instructions and we were soon flapping arms and legs in the air in a land simulation of paddling on the waves. We looked like a herd of beached sea elephants.
The young Balinese surf instructor hid his laughter as our group struggled with the basic actions: position your feet in the centre of the board, get your balance and, slowly but surely, stand up.
Then we were off to the water as the teachers from the Odyssey Surf School, based underneath the Mercure Kuta Hotel, watched our every move, giving helpful hints after every wipe out, and cheering us on when we caught a ride.
The thrill of finding my balance on the board, kneeling at first and then rising to my feet was one of those joyous and completely unexpected moments. Even TV funny man James McOnie managed to catch a wave after an hour-long struggle with gravity. I suddenly realised why surfing becomes a lifelong obsession for so many.
Speeding along on the wave was the highlight of four days in Bali, but there were many other contenders. The year-round tropical temperatures make for great water sports in any season. And although Bali is renowned for its surfing, there are plenty of other activities to keep you going.
Certainly a day spent at Bali Jet Set will not disappoint. I went parasailing (being hoisted 70m above the ocean with a parachute attached) and jetskiing, and I rode a flying fish - an inflatable vessel which, when towed behind a boat, flies through the air.
There's elephant-riding in a sanctuary that rescues and rehabilitates poorly treated animals from other parts of Indonesia. And, somewhat speedier, I went white-water rafting down canyons where the granite walls have been carved into beautifully ornate religious murals.
Then there's the night-life. At Potato Head in the fashionable suburb of Seminyak, you could be mistaken for thinking you were somewhere in the Mediterranean. Three levels of dining enveloping an uber-trendy courtyard area with infinity pools stretch down to the beach. The Sky Garden nightclub, with its five floors of rooms, heaves every night with its trendy mix of party people.
I have to admit Bali had never been high on my list of places to visit, but it was easy to see why it is so popular. It has something for everyone, hotel accommodation is cheap, the food is great and the shopping is top-notch.
Bali's rich history and strong Hindu culture is probably lost on the majority of young travellers who have made the island the first stop on many OEs, but there are also enough temples and religious artefacts around to keep culture vultures entertained.
There is tight security in tourist areas, a reminder of the horrors of bombings in 2002 and 2005. But Bali is back and open for business. For everything from brocations to family holidays it really does have it all.
Bevan Hurley flew to Bali courtesy of Air New Zealand, which has two non-stop flights a week from Auckland until October 14. Fares start at $1206 return.